Leadership change evokes positive reaction
By Paris, Ariel Tung in New York and Tan Yingzi in Washington DC (China Daily)
Updated: 2012-11-16 08:06
A new generation of Chinese leaders has taken the helm, and observers overseas have spoken about the country's future direction and international relations, report Zhang Chunyan in London, Fu Jing in Brussels, Li Xiang in Paris, Ariel Tung in New York and Tan Yingzi in Washington DC
After the Communist Party of China held its 18th National Congress and completed its leadership transition, members of the Standing Committee of the Political Bureau of the new CPC Central Committee met with Chinese and foreign media on Thursday.
The congress marks an important milestone in China's development, according to analysts. In the next 10 years, China's new leaders will face a range of opportunities and challenges, both at home and abroad, but they will continue the process of reform, inject new momentum and vitality into the country's economy, and lead China in playing a key role in the international community.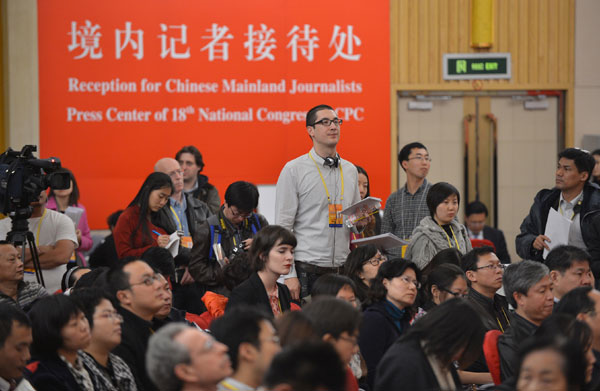 Reporters from home and abroad at a news conference for the 18th National Congress of the Communist Party of China in Beijing. Li Xin / Xinhua
The economy
Under the CPC's leadership, China has been a global success story, with its rapid growth lifting hundreds of millions out of poverty and buoying the world economy.
Jim O'Neill, chairman of Goldman Sachs Asset Management in London, said he is confident about China's economy. "I have no real reason to divert from what I have already assumed about this decade since 2010, that Chinese real GDP growth will average around 7 to 8 percent."
In O'Neill's view, the Chinese economy will grow at a much slower pace than of late, about 7 percent, less than the 10 percent it registered during the last 10 years, but China will continue to be the best investment among the BRICS countries.
O'Neill coined the term BRIC to describe the emerging economies of Brazil, Russia, India and China - South Africa didn't join the bloc until later.
"China is in the early stages of moving out of a long period where it was all about the quantity of growth, into an era where the focus will be on the quality of growth," he said.
However, all the experts noted that the world's second-largest economy will have to undertake many tasks in response to domestic and international economic developments.
At home, the new leadership will need to reshape the economy, address social concerns such as healthcare, education and corruption, and tackle a number of pressing environmental issues, said Stephen Phillips, CEO of the China-Britain Business Council, which helps British companies to invest in China and Chinese companies to establish business in Britain. He added that this will require continued reform on a number of fronts.
Pierre Picquart, a China watcher and professor of geopolitics at the University of Paris VIII, said China's new leaders will need to accelerate economic restructuring and reforms to sustain healthy economic growth.
"The new leadership needs to be pragmatic and creative in order to better facilitate the trend that China is transforming from a world factory to a world laboratory," he said.
Ensuring that developments are based on improved quality and performance is crucial, said Peter Ho, a professor of Chinese Economy and Development and co-director of the Modern East Asia Research Center at Leiden University in the Netherlands. Ho added it's clear that product and, perhaps even more important, food safety will be major challenges.
"China needs to do a couple of important things in order to see further development," he said. "First, it needs a strong, centralized leadership that can think deeply about banking reform, capital market reform," said Doug Guthrie, dean of the George Washington University School of Business and professor of International Business and Management.
"Second, it's really important that reforms are also tied to larger social issues related to the creation of a healthy market economy. It's not just about technicalities such as banking and currency reforms, but also about building a social safety net like healthcare, etc. These things really do relate to the economy in a fundamental way.
"Third, they have to build a consumer-oriented economy. There has been a lot of talk about this, but it will be crucial for China to build an economy centered around domestic consumption."
On the global stage, "China's new leaders will need to grapple with a continued, challenging overall economic environment and the tensions this may bring to trade and investment relationships as the global economy continues to adjust and rebalance," said Phillips from the China-Britain Business Council.
Nicola Casarini, research fellow at the European Union Institute for Security Studies in Paris, said China's new leaders will try to preserve a tranquil regional environment.