Small village harvests enormous change
(chinadaily.com.cn)
Updated: 2012-11-07 13:40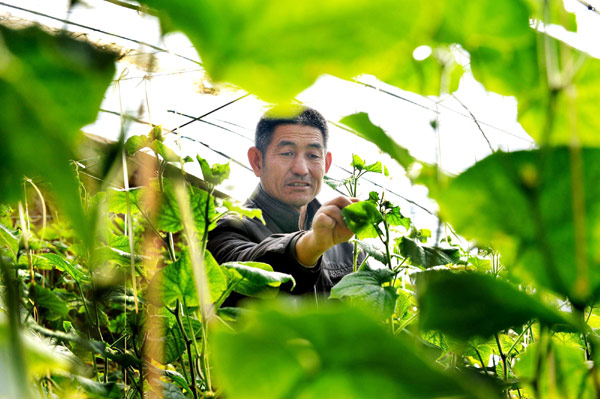 Yan Changjun checks the cucumbers he planted in Hougoumen village, Shaanxi province, Nov 6, 2012.[Photo/Xinhua]
Hougoumen village of Ansai county in Shaanxi province has witnessed enormous changes as it became a rich and civilized village under the direction of the Scientific Outlook on Development theory.
Shaanxi provincial government honored Hougoumen as a "civilized village" in January 2010, and the Organization Department of the CPC Central Committee honored the village as a "national outstanding Party group" in July 2011.
The village brought in an advanced vegetable cultivation techniques from Shandong province in 1992 and has focused on developing the industry ever since. The village developed an agricultural industry chain involving ideas like raising pigs so their waste can be used to fertilize vegetables.