Paralyzed dog wheeling through life
Updated: 2012-02-25 08:32
By Guo Nei (China Daily)
| | | | | | | | | | | |
| --- | --- | --- | --- | --- | --- | --- | --- | --- | --- | --- |
|   | | Comments() | | Print | | Mail | | Large Medium  Small | 分享按钮 | 0 |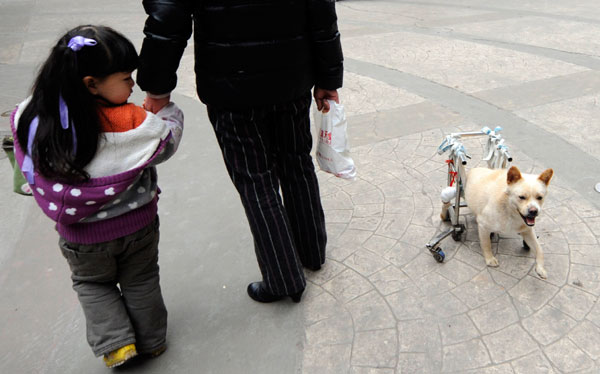 Wheelchair-bound Sansan, dubbed Dog the Strong, is a star in his Chongqing community. [Photo by Ran Wen / for China Daily]
CHONGQING - Sansan really enjoys wheeling around the neighborhood.
And residents get a kick out of watching Sansan as well.
The 17-month-old dog, who was badly injured by a car, now gets around in a canine version of a wheelchair.
"Humans use wheelchairs when they get paralyzed, so a paralyzed pet can have a wheelchair, too," said Zeng Yin, who adopted the dog in August when she found him lying -healthy at the time - in front of her wine shop.
Zeng said she made the sudden decision to raise the stray because it resembled a dog she had for 17 years.
Only weeks after she began caring for the dog, however, he was hit by a speeding black SUV as he crossed the road. The vehicle didn't stop.
Zeng rushed the dog to a pet hospital and during treatment she decided to name the dog Sansan because that was the name of her previous dog.
She hoped the name could bless the new one and help him survive and live long.
Zeng later transferred Sansan to other pet hospitals, where doctors suggested him be put down, but Zeng refused.
Miraculously Sansan survived, but lost any feeling from the pelvis to hind legs.
Every morning Zeng massages the dog for an hour to prevent muscular atrophy, and an old woman living downstairs found some Chinese medicine for his injury.
The idea of making a wheelchair for Sansan struck Zeng when she saw him crawling all over the room with difficulty.
"I started to get in touch with dogs when I was very young, and I know them well," Zeng said. "They have dignity like humans. They will die in depression if they cannot move around. That's their nature."
She searched many pet shops but couldn't find a suitable wheelchair for Sansan. So she stayed up one night to find a sketch of a pet wheelchair, which a mechanic put together with aluminum alloy and six wheels.
At first, Sansan seemed uncomfortable using the wheelchair because people always stared at him and even made fun of him, which made the dog realize he was different from other dogs, Zeng said.
"I looked in his eyes and encouraged him to be brave, and gradually he did what I asked it to."
"Now Sansan will droop his head when he finds people secretly whispering about him, but he will jump for joy when praised for being courageous and strong," Zeng said with a laugh.
Now Sansan even has a girlfriend. "Sansan has a big appetite, but he has tried to be a 'gentle dog' after he found a girlfriend. He always waits for his girlfriend to eat up, and then he starts to have his own lunch," Zeng said.
"Even as a paralyzed dog, I hope Sansan can have a life the same as other dogs."
After the story of Sansan hit the media, Zeng called for more attention to be paid to stray dogs. She even teaches people how to make a wheelchair.
About 500 dogs are paralyzed in car accidents every year in Chongqing, according to Chen Mingcai, chairman of the Small Animal Protection Association of Chongqing.
China Daily
Hot Topics
Wu Ying, iPad, Jeremy Lin, Valentine's Day, Real Name, Whitney Houston, Syria,Iranian issue, Sanyan tourism, Giving birth in Hong Kong, Cadmium spill, housing policy