Some call it an indelicate trade, others, a delicacy
Updated: 2012-01-13 07:50
By Guo Rui (China Daily)
| | | | | | | | | | | |
| --- | --- | --- | --- | --- | --- | --- | --- | --- | --- | --- |
|   | | Comments() | | Print | | Mail | | Large Medium  Small | 分享按钮 | 0 |
In South China, elderly diners savor cat meat, particularly during winter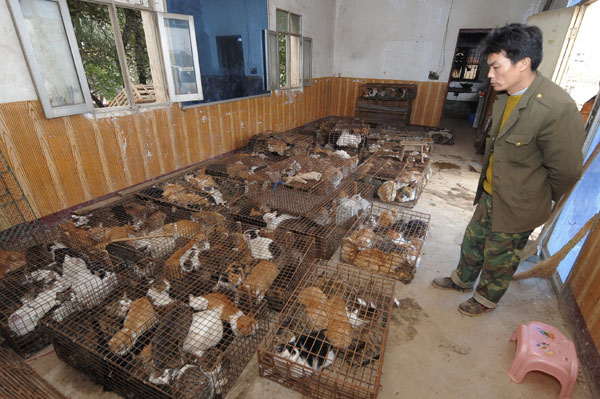 A keeper checks caged cats at a house in Wuhan on Dec 30. The cats are believed to have been sent to South China restaurants or are ready to be on the way. Trucks loaded with caged cats often head to South China in recent years. Chen Yong / for China Daily
WUHAN - In a gloomy and damp single-story house in the rural-urban fringe of the city, hundreds of cats are locked in a foul-smelling room. The terrified animals were rounded up in neighboring provinces, and they will be killed in southern China to end up on dinner tables.
"After gathering a certain number, around 300, the cats will be moved to sell to restaurants in Guangdong province and the Guangxi Zhuang autonomous region," a 'guardian' of the cats surnamed Zhou, told China Daily on Tuesday.
Zhou said, since it is getting cold, people in Guangdong and Guangxi will eat cat meat to supplement their diet.
So his boss opened this cat shipping station on Baishazhou Avenue, Wuhan, in October, and is paying him around 1,000 yuan ($156) a month.
"Sometimes there are 70 or 80 cats a day, other times just 20 or 30," said Zhou, a 60-year-old man from Xiaogan, Hubei province. He began the job, which was described as a "guardian", at the end of October. His main task is to watch the cats and load them into trucks.
At the dark site, around 100 cats were packed in cages, nervously nestling against one another.
Most of the cats Zhou handles are the common type, but occasionally there are special breeds, he said.
"But they all cost the same - 10 yuan a kilogram," Zhou said.
The cats were caught mostly in Anhui and Jiangsu provinces, Zhou said, and all had received the necessary quarantine certificates.
"So everything is in order, I think," he said. The cats will be sent to South China in several days.
In Guangdong, cat meat is a main ingredient in the traditional dish "dragon (snake), tiger (cat), chicken", which is said to fortify the body.
"The cats will be sold for more than 160 yuan a kg in restaurants." Zhou said. His boss recently worked at marketing the meat in Guangxi, because cat meat is currently a hot item there.
In late December, the local Nanfang Daily newspaper reported about 4 million cats are eaten in China in a year, and the number is rising.
"In Guangzhou, cat meat is popular now mostly in restaurants on the outskirts of the city. Most of the cat eaters are older people and old habits die hard," said Feng Dongmei, a manager of cat and dog welfare at the Animals Asia Foundation (AAF), a non-government charitable foundation in Hong Kong.
Cat dishes are rarely seen on the menus of restaurants downtown, and most young people do not eat them nowadays, she said.
An Xiang, a Chinese lawyer who handles public causes and focuses on animal protection, said trade in cat meat is illegal.
Under the Management of New Food Sources law, enacted by the Ministry of Health in July 2007, food that is not customarily eaten in China should be grouped among new sources of food. Businesses dealing in these foods must obtain special authorization.
The law on new food source safety evaluation procedures, issued subsequently in November 2007, stipulates that food eaten only in a few countries or in a few domestic regions is counted among the new food sources.
"The reality is not that people throughout the world or throughout China customarily eat cat, right?" An Xiang asked. And eating cat is limited in parts of the south, he said.
"As cat meat is a new food source, its production and business operation must abide by strict rules to get the safety certification and permission from the Ministry of Health," An said.
There are no official statistics on the number of domestic cats in China, because the government does not require cats to be registered.
In Beijing, the number of stray cats has rapidly been increasing in recent years, mainly because more cats are being abandoned by families moving away, said Qin Xiaona, head of the Capital Animal Welfare Association.
By 2007, there were as many as 200,000 stray cats in the capital, she said, citing association's latest figures.
An animal activist in Beijing, who identified herself as Xiaomiao, said that because it costs less, cat meat is usually mixed with the roasted mutton sold by the roadside in the city.
"Many people don't know that what they have eaten was cat meat," she said.
Tu Jiancheng, a professor at the Zhongnan Hospital of Wuhan University, said the cats are carriers of many of pathogens that can cause health problems. "It probably won't turn out well for people who ate sick cats," Tu said.
Mei Zhigang, a professor who studies social problems at Central China Normal University, said the cat is not simply an animal, but part of human civilization.
The fate of the cats has triggered growing concern among animal rights activists in the country, and "more people have joined us to prevent cats from being captured and killed," Xiaomiao said.
In October, with the help of local police, an animal protection organization rescued nearly 200 cats from a dog trader in Wuxi, East China's Jiangsu province. The cats were to be delivered to restaurants.
China has recently finished a draft on animal protection, and it is singled out as a punishable offense.
Back at the cat station, guardian Zhou said he will leave the job after the Chinese New Year because his grandchildren are unhappy about what he is doing.
Jin Zhu contributed to this story.