Editor's note: The 2011 Central Economic Work Conference opened on December 12. Being one of the most important economic events in the country, the conference set the tone for next year's economic development.

Inflation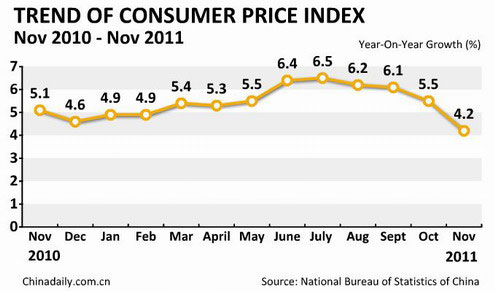 China's Nov CPI up 4.2%, PPI up 2.7%
China's consumer price index, a main gauge of inflation, rose 4.2 percent year-on-year in November, further weakening from 5.5 percent in October due to falling food prices, the National Bureau of Statistics said on December 9. [Full Story]
'China's inflation controlled'
With the central government's resolute efforts, the trend of surging prices this year has been controlled, said Yao Jingyuan, the former chief economist with the National Bureau of Statistics. [Full Story]

Monetary Policy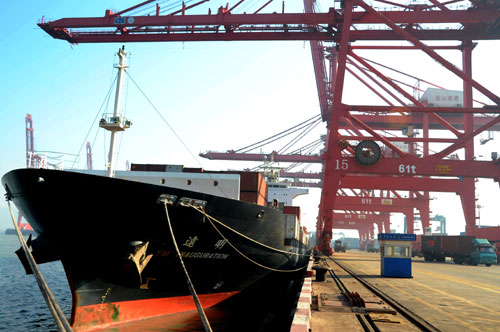 'Basically stable' yuan is goal for 2012
China will keep the yuan's exchange rate "basically stable" in 2012 and further strengthen its reform of the rate-formation mechanism, said an official statement released after the annual Central Economic Work Conference closed on Wednesday. [Full Story]
Yuan is close to equilibrium rate: Economist
China's RMB, or the yuan, is getting close to the equilibrium value, a government think tank economist said, refuting the US accusation that the currency is undervalued. [Full Story]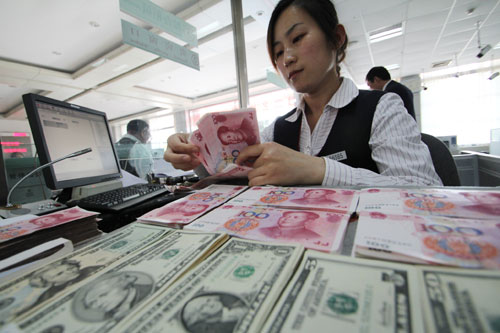 Banks still pushing to maximize lending
Chinese banks are still trying to lend as much as possible, which is likely to lead to more non-performing loans, said a source close to government decision-makers on December 12. [Full Story]
Economists call for slow monetary loosening
Chinese economists have urged a gradual loosening of monetary policy to avoid a faster-than-expected cooling of the economy next year. [Full Story]

Housing Prices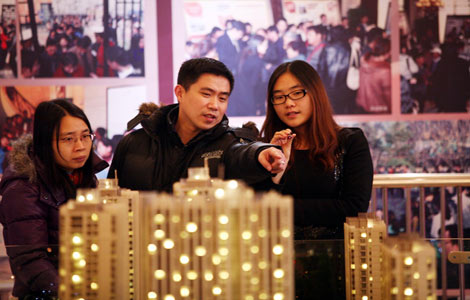 Housing market may have soft landing
China's housing market is expected to achieve a soft landing due to effects that emerged from the government's strict limits on property purchases, according to a report from a think tank released on December 9. [Full Story]  
China may expand property tax in '12
Property tax has dominated the news recently, after a senior researcher said the country may consider expanding its property tax trials next year. [Full Story]   
China to stay fast to real estate policies
To make home prices more reasonable, China will unswervingly adhere in 2012 to property regulations it adopted this year, according to a government statement. [Full Story]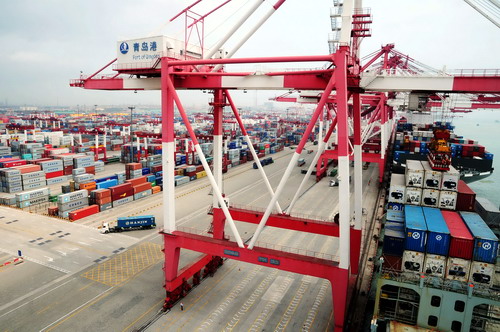 Slice of export pie may shrink
China's share of the world's total exports might decline for the first time in 16 years in 2012 because of weaker world demand and a stronger yuan, an expert said on December 12. [Full Story]
Tax reforms to have larger place on the agenda
More tax reforms are on the 2012 agenda as part of China's "positive fiscal policies" intended to restructure and balance the economy, the annual top planning conference said. [Full Story]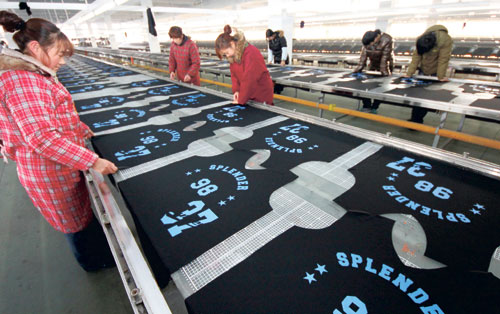 Lower taxes to aid economic growth
Experts predict that the government will make structural tax cuts to shore up the world's second-largest economy in 2012, as they forecast slower growth amid weaker export demand and the threat of bad loans from stimulus spending. [Full Story]
China seeks export stability
With the global economic picture looking grim, China will try to steady the growth of its exports next year by stabilizing its foreign trade policy and promoting industrial transformation, according to Chinese government officials. [Full Story]

Cautious policy needed
Policymakers charting China's monetary and fiscal policies for 2012 at the Central Economic Work Conference, which starts on Monday, should not ignore the strong headwinds blowing both inside and outside the country. [Full Story] 
Crucial period of change
The Chinese economy has arrived at a crucial stage of all-round structural adjustment. In the coming two or three years, companies will start to feel the pressure as there is likely to be moderate inflation of between 3 to 5 percent. [Full Story]  
Real test is still to come 
Bearish sentiment about the Chinese economy has surged in recent months, owing largely to three conjectures. First, China's housing market is on the brink of collapse. Second, China's fiscal position will worsen rapidly because of massive local government debt. [Full Story] 
Growth vow amid global woe
A pledge to maintain stable growth next year against the backdrop of a "grim" global economy while transforming the country's economic model was delivered at a key conference on Wednesday. [Full Story]


The Central Economic Work Conference has been held regularly at the end of every year since 1994.
It is the country's highest economic meeting, held by the Central Committee of the Communist Party and the State Council.
Leaders at the conference review the country's economic works in the past year, and maps out economic plans for the coming year.