New horizon for Urumqi's slum areas
Updated: 2011-08-03 23:01
By Uking Sun (chinadaily.com.cn)
| | | | | | | | | | | |
| --- | --- | --- | --- | --- | --- | --- | --- | --- | --- | --- |
|   | | Comments() | | Print | | Mail | | Large Medium  Small | 分享按钮 | 0 |
A once dreadful slum in the capital of Xinjiang Uygur autonomous region has witnessed a staggering 70 percent drop in crime in the past two years as the local government fine-tuned its role to offer more "services" and less on management.
Heijiashan covers an area of 19,100 square kilometers in Urumqi's Tianshan District, and among its population of 46,600, over 60 percent are migrants from other regions, including Xinjiang's most underdeveloped Hotan. Traditionally, the income of local residents mainly relied on renting rooms, and a family could have 7 to 150 rooms to let.
"Dirty, chaotic, shabby, and people with a low education background have made the place notoriously known as a dangerous zone in Urumqi," Liang Zhen, Deputy Director of Heijiashan Regulation Commission told China Daily.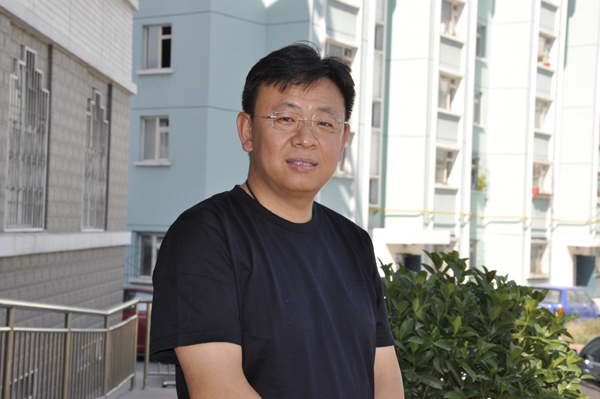 Liang Zhen, the deputy director of Heijiashan Regulation Commission, Tianshan District, Urumqi, poses for a photo in Urumqi, Xinjiang Uygur autonomous region, August 3, 2011.  [Photo/chinadaily.com.cn]
People crowded in brick-and-mud makeshift houses, and there were no drinking water, electricity or any safety measures to protect against fire, scaring off its lessees too. "When I go to work in the daytime, I always worry about my home," said one tenant named Ahat.
But these are just old memories. Liang Zhen said the local community government solved the problem by better managing its floating population at the beginning and then improving services for residents' long-term development.
Landlords are financed to improve the house conditions, such as meeting the standards of fire prevention, and awarded if they could register the tenant's information. These methods significantly improve the security situation, according to Liang. A series of other measures were implemented for the well being of dwellers, such as assisting poverty-stricken families, creating job opportunities through opening a new market, and building a center for seniors.
The shantytowns are disappearing while modern concrete apartments boom in the well-organized new community. In the urban renewal that has a total cost of 2.68 billion yuan, 887 families out of 1,850 have already moved into the new buildings, and another 664 families will move into their new homes by November this year.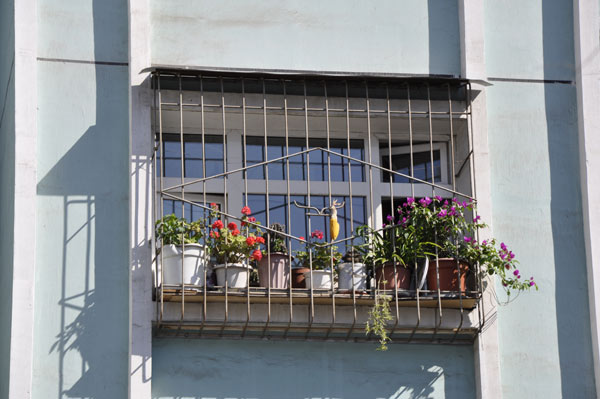 There are many windows decorated with flowers in the Heijiashan comunnity in Urumqi, Xinjiang Uygur autonomous region, August 3, 2011. [Photo/chinadaily.com.cn]
The housing price dropped to 3,800 yuan per sq m shortly after the July 5 riots in 2009, but now it has rocketed to 5,000 or 6,000yuan per sq m again, demonstrating a regained confidence of economic growth in the view of Liang Zhen.
He also said relocated residents can purchase a new house of the same size as their previous one at a price much lower than the market value. They can now get compensation of 4,300 yuan for per sq m, so they only pay about 30,000 yuan to get a well-furnished two-bedroom apartment.
"There are families who had houses of 1,000 square meters before demolition, so in the renewal they can get about ten apartments for one as compensation. And they can make a lot of money, "said Wang Fen, an official of Publicity Department, Tianshan District.
Wang also said the emphasis on providing better services for residents, from a good social order to clean environment and job training, has turned the crime-fraught slum area into a pleasant, harmonious region.