Wisdom at the end of a brush
Updated: 2011-09-15 07:30
By Li Yang (China Daily)
| | | | | | | | | | | |
| --- | --- | --- | --- | --- | --- | --- | --- | --- | --- | --- |
|   | | Comments() | | Print | | Mail | | Large Medium  Small | 分享按钮 | 0 |
BEIJING - Wu Bin has been teaching calligraphy for 20 years and believes the ancient art still has a role to play in the digital age, when typing on a keyboard is replacing handwriting.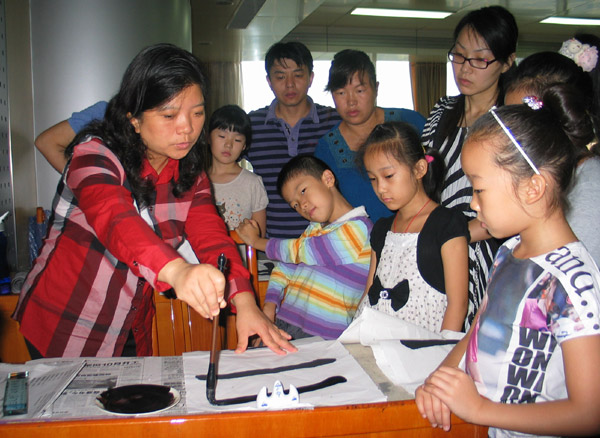 Wu Bin, 42, vice-chairwoman of Shandong Association for Young Calligraphers, teaches children calligraphy on Sept 4.[Photo/China Daily]
Wu, 42, is a teacher at Huayuan Road No 2 Elementary School of Jinan, Shandong province, and conducts a weekly calligraphy class to students aged from 6 to 16.
She said her students benefit from the quiet, calm environment she creates in her classes. They also enjoy the cultural and historical background she gives them along with instructions in the actual writing of various scripts.
"All the arts are interlinked," Wu said. "We should learn the rhythm of change from Michelangelo's sculpture The Genius of Victory, which depicts the winner in detail and the loser only in rough lines, and Beethoven's Fifth Symphony, often called the 'Fate', whose power comes from its highs and lows."
Wu started learning the discipline of calligraphy from a master when she was 11. From the master she also learned how to pass on the art to children.
Wu adapts her teaching in accordance with each student's ability, which makes her classes more individualized and rewarding.
"She (Wu) suggested several copybooks of calligraphy to me after she got to know me and let me make the final choice (of a certain calligraphic style)," said Xu Jiapei, a 13-year-old middle school student, who for seven years has practiced the calligraphic style of Zhi Yong, a master of the Sui Dynasty (AD 581-618).
Wu insists her students learn from ancient masters directly, especially famous calligraphers of the Tang (618-907) and Song (960-1279) dynasties, the golden age of Chinese calligraphy.
Wu thinks young students can learn new skills quite quickly. She said it does not take long for them to go from basic regular script to running script and even the cursive form.
"We should not underestimate their abilities," she said. "They just need the right guidance and encouragement."
Taking part in calligraphy exhibitions and competitions at various levels enables the students to see that their efforts have paid off, Wu said. Winning a prize is an immediate inspiration for them.
However, Wu carefully controls the number of competitions her students enter.
"Despite the rewards they get from winning prizes, it's more important for them to concentrate on the art itself and never put the cart before the horse," she said.
Wu firmly believes children should always compete to write, instead of writing to compete.
Wu first gives her proteges quiet time to observe and study an ancient master's strokes then gets them to reconstruct them before learning to copy them from memory.
"It is a good process to improve their inner peace, patience and observation skills," said Zhang Jing, the mother of one of the students.
Wu believes that the value of calligraphy grows with time. "The nation's cultural identity is defined by its language, of which the process of writing is an inherent part," she said.
Wu is modest and plays down her role as a teacher of Chinese culture. However, her students speak highly of the way she introduces cultural elements into her classes.
"She adds cultural background and historical stories to her lessons, and this can't be done without true knowledge of the subject," said Hu Xiaoyu, a 12-year-old middle school student.
"The anecdotes about famous ancient calligraphers and their classical works add life and interest to the process of writing."
Wu's emphasis on creating a cultured environment turns the class of about 40 students and their parents into a ceremonial site for calligraphy. When you are used to modern classrooms with their noise and flash technology, the quietness and solemnity of one of Wu's classes is striking.
"I feel quiet and peaceful sitting here. Wu likes an open class. I benefit a lot from that," said Yang Lin, the mother of a student. "Wu creates that atmosphere easily and she makes it work for both children and adults."
Wu does not think a weekly class is long enough for her to follow her students' progress. So parents are encouraged to sit beside their children during her lessons. This helps the parents to encourage the children to practice writing at home on a daily basis.
"An open class was the style at schools in ancient China," Wu said. "Opening the class to parents not only helps to spread knowledge, but also helps students feel less cramped, making it easier for them to concentrate more naturally on their brushes.
"I have never closed the classroom door in 23 years. Many students and adults develop an interest in calligraphy by listening at the door."
Wu does worry that her students will not have enough time to practice calligraphy every day because of all the homework they must do and the modern distractions of computers and social networking. But she hopes her lessons will instill in them a lifelong love of the ancient art.
"I believe the time they spend on calligraphy when they are young will make them different from many other students," she said.
"What I am doing is just following the way calligraphy was taught to me that summer in 1980 when I touched a brush for the first time. The brush became a part of my life."
Hot Topics
Organ transplant bonds mother and son