TEHRAN - President Mahmoud Ahmadinejad, taunting the United States for trying to halt Iran's nuclear programme, unveiled a new centrifuge on Friday which officials said would enrich uranium much faster then existing models.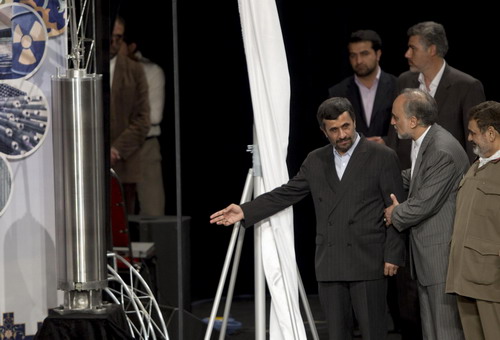 Iranian President Mahmoud Ahmadinejad (L) points at a sample of the 3rd generation of centrifuges for uranium enrichment as Ali Akbar Salehi, head of Iran's Atomic Energy Organisation talks to him during a ceremony to mark the Fourth National Anniversary of Nuclear Technology, in Tehran April 9, 2010. Iran announced Friday it had developed faster centrifuges for uranium enrichment, signalling determination to press on with its nuclear work despite possible new UN sanctions sought by US President Barack Obama. [Agencies] 
US President Barack Obama, who is seeking tougher UN sanctions against Tehran, acknowledged that such measures would not necessarily work, but said sustained world pressure could over time prompt Iran to revise its nuclear calculations.
Related readings:


 Iran's president unveils new generation of centrifuges


 Beijing to attend talks on Iran


 Six powers to consult on Iran nuke issue in NY


 Sanctions against Iran proved failure: Iranian FM


 State councilor meets with Iran nuclear negotiator
Ahmadinejad, in a speech to mark Iran's annual nuclear day, called the nuclear arms reduction treaty that Obama signed with Russia this week "a masquerade" hiding his true intentions.
"We consider nuclear weapons to be against humanity," he said.
"Iran's nuclear path is irreversible. The Iranian nation has reached a new point where no power can deter it from moving full speed ahead to reach peaceful nuclear energy."
The head of Iran's Atomic Energy Organisation, Ali Akbar Salehi, said the latest "third generation" centrifuges had a separation power of 10, six times that of the first generation.
The centrifuges Iran uses now are adapted from a 1970s design and have been prone to breakdowns. Tehran is known to have been testing new models for years. It was not immediately clear when the new machines would be introduced into full-scale enrichment, something analysts say would be a significant step.
"This is not unexpected and given what Obama is doing, I think they are really trying to show that they are getting past the sanctions," said David Albright, director of the Institute for Science and International Security in Washington.
"They have been buying a lot for their centrifuge programme in the past couple of years, or trying to, and have been thwarted many times. They've been working on these third generation centrifuges since the early 2000s," he said.
"The real issue is, are they able to build these in the thousands or ... in the 10s, and when are they going to be installed? The other question is, do they work well?"
Western analysts say Iran has in the past exaggerated progress to bolster domestic pride about its nuclear programme and to enhance its bargaining position with major powers.
PUSH FOR SANCTIONS
Western countries are seeking the support of Russia and China for a fourth round of UN sanctions against Tehran.
Obama, who hosts a nuclear security summit next week, wants them to back further measures to deter Iran from pursuing what the West believes is a covert drive to develop nuclear weapons. Tehran says its programme has only peaceful purposes.
Obama said there was no guarantee the sanctions that could be instituted now would automatically alter Iranian behaviour.
"The history of the Iranian regime ... is that you know, you apply international pressure on these countries, sometimes they choose to change behaviour, sometimes they don't," he told ABC's "Good Morning America".
Obama spoke to ABC on Thursday after signing a nuclear treaty with Russian President Dmitry Medvedev.
The two men also pledged greater cooperation to persuade Iran to give up its uranium enrichment program.
Russia, long resisted calls for tougher sanctions on Iran, but now chides Tehran for ignoring offers made by world powers aimed at defusing the nuclear issue.
Obama hailed what he called an "enormous shift" by Russia in efforts to get all countries, notably Iran, to "start abiding by certain rules of the road".
"If we are consistent and steady in applying international pressure ... over time, Iran, which is not a stupid regime, which is very attentive and watching what's happening in the international community, will start making a different set of cost-benefit analyses about whether or not pursuing nuclear weapons makes sense for them," the US president said.
Britain voiced concern about Iran's latest show of enrichment devices.
"The use of this kind of technology is of course prohibited by five UN Security Council Resolutions which require Iran to suspend its enrichment programme and come clean about its nuclear intentions," a Foreign Office spokesman said.