GUANGZHOU - Li Yi, a finance major from Xiamen University's Tan Kah Kee College, defeated 25 other finalists to win the 21st Century Cup National English Speaking Competition in Guangzhou, Guangdong province, on Saturday.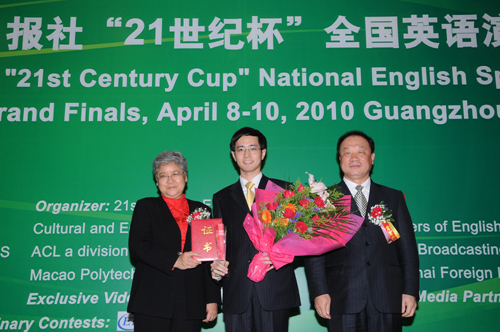 Tang Wensheng (left), executive vice-president of the Translators Association of China, and Song Hai (right), deputy governor of Guangdong province, present the award to Li Yi, champion of the 15th China Daily "21st Century Cup" National English Speaking Competition from Xiamen University's Tan Kah Kee College, in Guangzhou on Saturday. [China Daily]
"I feel overwhelmed, I feel surprised, I can't believe it," said the 21-year-old after receiving the award - a scholarship to a college in the United Kingdom and an internship at the British Broadcasting Service (BBC).
The competitors were asked to deliver a short speech on "The power of sports in personal development: Lessons about life we get from sports" at the grand finale of the 15th edition of the contest held at the Guangzhou Asia International Hotel.
Song Hai, deputy governor of Guangdong province, said the "successful event", launched by China Daily in 1996, would help promote English in Guangzhou and better prepare the city for the 16th Asian Games, due to be held from Nov 12 to Nov 27.
Li's speech, entitled "Rhythm of Life", drew parallels between running a marathon and living life.
Besides the prepared speech, competitors were also asked to deliver an impromptu speech, following which they fielded questions from a panel of English language experts.
Runner-up Tong Hua, a student at Fudan University, stood out in her Q&A on yoga and her life.
The Russian major's performance won her two extra awards: The China Daily 21st Century Most Promising Speaker and the TOIEC Most Graceful Speaker.
The competition, which kicked off in May 2009, saw the participation of a record one million students from over 850 universities across the country.
China Daily