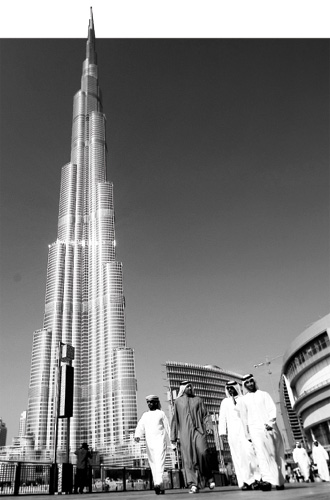 SHANGHAI: Just after Burj Khalifa, the world's tallest building, opened in Dubai on Jan 4, a group of Wenzhou investors of Zhejiang province is planning a trip to the coastal city, looking to buy some discounted properties.
"When they learned of such an opportunity to visit Dubai, more than 20 members expressed an interest in joining the visiting group," Zhou Dewen, head of the Wenzhou SME (small and medium-sized enterprises) Business Development and Promotion Association, told China Daily.
"Although the economy there has not revived yet, we believe big business opportunities exist not only in property, but also in export trading," he added.
Related readings:


 Dubai debt woes whack for Wenzhou merchants


 Dubai downturn sends ripples throughout Arab world


 Dubai towers opens amid great fanfare


 Indebted Dubai puts on brave face for tower opening


 Sands China caught in Dubai turbulence
Zhou's visiting group is sensing the recovery of Dubai after the completion of the world's tallest building.
"The air-ticket bookings to Dubai have nearly doubled compared to the same period in 2009, a remarkable growth beyond our expectation," said Michael Peng, sales manager with Shanghai Business International Travel Service Co.
For the 2009 Chinese New Year, Peng's company booked about 50 customers to Dubai. This year, the same festival has attracted nearly 150 customers so far, and more than 40 percent of them come from Wenzhou.
"We have to turn down similar inquiries as no more tickets are available to the city," he said.
Wenzhou entrepreneurs were hit hard last year in domestic investment, especially since their assets shrank greatly as the Shanxi province's mining industry staged a reform to reclaim the ownership of many mines. Zhou estimated the total losses at 50 billion yuan ($7.4 billion).
Due to the thinning profitability of domestic projects, Wenzhou investors are shifting their focus to Dubai.
"The domestic property market has soared over the past six months, and it is very likely to have a price adjustment due to the central government's tightening policy. While the US and Europe markets remain weak, Dubai remains the bright spot for investment," said Chen Jie, professor with Fudan University.
After the $10 billion bailout was sent out from Abu Dhabi, investors believe Dubai's economy has bottomed out and ready to bounce back, said Chen.
Property prices in Dubai are reported to shrink nearly half due to the global financial crisis and the ensuing debt crisis that erupted in late November 2009, public information shows.
Currently, approximately 150,000 Chinese citizens are living in Dubai, and nearly 20,000 of them are merchants from Wenzhou. Apart from running small businesses there, most of the Wenzhou merchants also have invested in real estate projects in Dubai.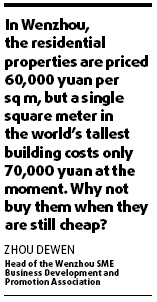 The 20,000 businessmen from Wenzhou hold at least 5 billion yuan worth of properties there, according to Zhou. The recent debt crisis has caused a collective loss of 1 billion yuan so far, but that was merely a small amount of money in comparison to what they earned there, Zhou said.
The completion of Burj Khalifa was viewed as a sign of a quickening recovery to some Wenzhou investors. The 828-meter-tall building boasts the best luxury apartments, fine hotels and offices.
"In Wenzhou, the residential properties are priced 60,000 yuan per sq m, but a single square meter in the world's tallest building costs only 70,000 yuan at the moment. Why not buy them when they are still cheap?" Zhou asked.
Originally named Burj Dubai, which simply means Dubai Tower in Arabic, the building got its new name in honor of neighboring Abu Dhabi's leader Sheikh Khalifa bin Zayed Al Nahyan, who provided several billion bailout dollars to propel Dubai's economy.