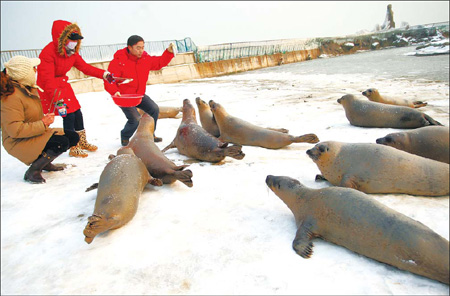 Park employees feed spotted seals living in an open-air zoo at Dongpaotai Park in Yantai, East China's Shandong province, on Saturday. [Shen Fengzhu/China Daily]

Spotted seals living in an open-air zoo can now come up for fresh air after ice floes blocking the sea surface thawed yesterday afternoon.
This was the first threat to deprive the seals of fresh air as they swam offshore during their four years of living in "Seals Bay" of Dongpaotai Park in Yantai, a coastal city in East China's Shandong province.
Almost all the ice "has thawed today," Li Gang, an employee of the park, said yesterday over the phone. "The seals can now take a deep breath."
More than 60 spotted seals, around five years old, are kept at the park, according to Sun Li, another employee at the park.
Before yesterday's warming, most of the seawater in the 2,000 sq m bay had frozen as a result of near 0 C seawater temperatures, a situation Li had never seen since the opening of Seals Bay four years ago.
On Saturday, park employees rushed to clear the ice floes floating into the bay with shovels to prevent the seals swimming underwater from dying of suffocation, said Sun.
The Shandong province has seen the most severe freezing of seawater off its coasts in the past 30 years due to a cold snap lasting for days.
Spotted seals are the only kind of seals that breed in China, mainly in Liaodong Bay of the Bohai Sea. Their full number in China remains unknown.
There was an estimated nearly 2,000 spotted seals in a nature reserve near Dalian, a coastal city in northeastern Liaoning province, local media reported, citing data provided by the administration bureau of the nature reserve in July.