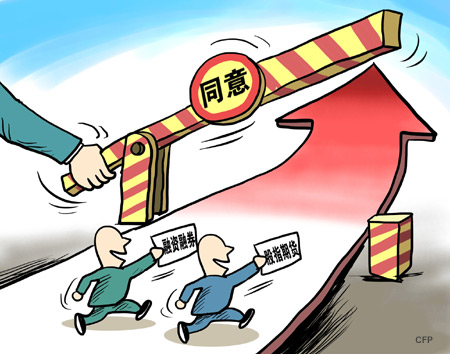 China took a "big step" toward opening its capital markets by approving stock index futures, paving the way for increased investment in the world's fastest-growing major economy, according to Invesco Ltd.
The China Securities Regulatory Commission said on Friday it may take three months to complete preparations for index futures, agreements to buy or sell an index at a preset value on an agreed date.
The government also approved margin trading and short selling, when investors seek to profit from declines in shares, according to a commission statement on its website.
"They're taking a big step forward in developing their capital markets and allowing people to express their positive and negative views on stocks," said Diane Garnick, a New York-based investment strategist at Invesco, which invests in China as part of its Asia Pacific business. It had $26.8 billion of assets as of Sept 30. "You'll have more people participate in the market and thus greater efficiency."
Increased investment in Chinese equities may help narrow the gap between prices of shares traded in both Hong Kong and the mainland, said Jeff Papp, a senior analyst at Lisle, Illinois-based Oberweis Asset Management Inc. Companies in China's benchmark Shanghai Composite Index trade at 33.9 times 12-month trailing earnings compared with 20.9 times for the Hang Seng China Enterprise index in Hong Kong.
'More Clarity'
"A potential long-term development is more clarity in the market now that there's more liquidity in the market for the true valuations of the companies that are dual listed," said Papp, whose firm oversees $800 million, including US and Hong Kong-traded mainland shares. "So we may see a pop" in the value of mainland equities listed in Hong Kong, he said.
China, whose economy grew 8.9 percent in the third quarter of 2009, currently bars overseas investors from trading yuan-denominated stocks and bonds on the mainland except through a so-called qualified foreign institutional investors program, which has approved 94 international firms. Foreign ownership of fund management companies is restricted to 49 percent.
Related readings:


 Index futures get regulatory approval


 China approves index futures, margin trading


 Equities rise on rumors of stock index futures


 China to introduce index futures at 'appropriate' time: regulator
Index futures may help ease fluctuations in the world's third-largest equity market by value after the Shanghai Composite Index doubled in 2007, then slumped 65 percent in 2008 before rebounding 80 percent last year. Until now, Chinese investors could only profit from gains in equities.
'Freedom'
"China is going in the direction of freedom for its markets and more flexibility for its investors so it's good news," said Eric Conrads, a hedge fund manager at Armada Capital SA, a Mexico City-based partnership with ING Investment Management, which invests in China through US-listed shares and exchange-traded funds. "More liquidity in the futures leads to more investors as you have a bigger pool of tools. You can be long on the future and short on the stock."
Allowing short selling in China probably will spur the start of more hedge funds in Asia, said Ken Heinz, the president of Hedge Fund Research Inc in Chicago.
Richard C. Kang, the chief investment officer at Emerging Global Advisors LLC in New York, said China, whose equities have a market value of $3.2 trillion, may not be ready for the change. Short selling is when investors sell borrowed stock in the hope of profiting by buying the securities later at a lower price and returning them to the shareholder.
"The risk that I see is too much growth too quickly," said Kang, who helps oversee $50 million in exchange-traded funds that hold shares of China Construction Bank Corp, Industrial & Commercial Bank of China and China Life Insurance Co. "If this leads to over-speculation, which is possible in a heated market, what happens is that there will be more short-term thinking in the market, and could lead to more speculators than hedgers."
The first stock index contracts, based on China's CSI 300 Index, may begin trading in March, an official with knowledge of the matter said. The CSI 300, which tracks the 300 biggest stocks traded in Shanghai and Shenzhen, rose 0.3 percent on Jan 8 to close at 3,480.13. The Bank of New York Mellon China ADR Index, which tracks American depositary receipts, rose 0.6 percent to 399.39 in New York and posted a 5.2 percent gain for the week, the biggest five-day advance in two months.