URUMQI: The International Grand Bazaar in Urumqi, capital of Xinjiang Uygur Autonomous Region, has reported a drastic drop in visitor numbers since it reopened after the July 5 riot.
The number of tourists had averaged only 100 to 200 since the bazaar reopened on July 22 after a 17-day closure following the riot, said Zhu Xiaoling, an official with the bazaar's office.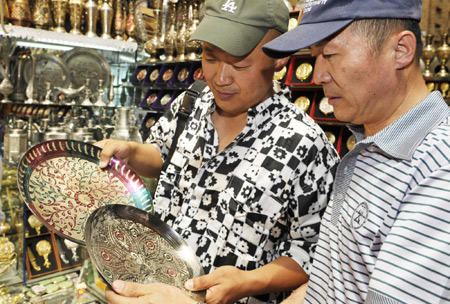 Customers select commodities at the International Grand Bazaar in Urumqi, capital of Xinjiang Uygur Autonomous Region, July 22, 2009. [Xinhua]
The bazaar received more than 100,000 people everyday before the riot.
"Shops in the bazaar depend mainly on tourists for business," Zhu said. "Since Xinjiang's tourism has been badly affected by the riot and the number of tourists dropped significantly, our businesses remain empty."
About 3,400 domestic and overseas tourist groups, comprising 200,000 travelers, had canceled tours to Xinjiang as of July 12, according to the
tourism bureau of Xinjiang Uygur Autonomous Region.
Although not a major contributor to the regional GDP, the tourism industry was an important source of income for many residents.
Full Coverage:


 Riot in Urumqi
Related readings:


 Xinjiang tourism industry acts to boost market


 Tourism in Xinjiang recovering after July 5th riot


 Xinjiang's riot hits tourism in Silk Road city


 Vice Premier underscores trade, tourism in border areas


 Unrest wreaks havoc on region's tourism industry
The landmark bazaar, which boasts 4,000 shops and booths, is a 100,000-square-meter commercial complex with a strong Islamic architectural influence that includes a banquet hall, a food court, a sightseeing tower, an open-air stage and a mosque.
It was closed on July 6 after the riot in Urumqi that left 197 people dead and more than 1,600 injured. Many shops were looted and vandalized.
"There is no business at all," said Tao Li, a vendor of the Han ethnic group who opened a business in the bazaar in 2006. "The sales revenue cannot cover the rent."
Tao said her daily revenue had averaged 15 yuan(2 US dollars) since the reopening.
On Sunday, many vendors sat idle in their shops in the nearly empty bazaar, playing with their mobiles or chatting with each other.
"I have two kids to support in my family," said Patiaimu, a Uygur vendor. "If business remains bad, I do not know what I'll do."