SHANGHAI - Shanghai inaugurated a massive new airport terminal and transport hub Tuesday meant to help the city handle the 70 million or more visitors it expects to attend the upcoming World Expo.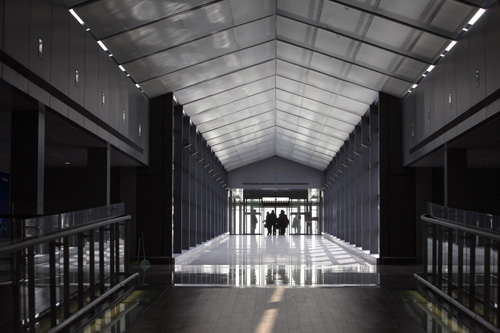 Passengers walk inside terminal 2 of Shanghai Hongqiao International airport March 16, 2010 on its first day of operation. Terminal 2 at Shanghai Hongqiao International airport as well as other infrastructures in town are under massive construction to meet the deadline for Shanghai World Expo due to start on May 1, 2010. [CFP]
The new Hongqiao terminal is part of a sweeping upgrading of the transport system for Shanghai, a city of about 20 million people.
Hongqiao Airport's new second terminal, located west of the current terminal building, will handle almost all domestic flights from the airport, though some charter and international flights will still use the older facility.
Related readings:


 Come and see the Expo effect to believe it


 China holds World Expo tourism evening in Berlin


 Expo pandas enjoy fresh bamboo


 Expo Shanghai to have collections of all human endeavors: organizer

In 2009, Hongqiao handled 25 million passengers. The 15.3 billion yuan ($2.2 billion) expansion will raise its capacity to 40 million passengers. The hub, which will connect directly to the country's railway and subway systems, will have a daily capacity of 1.1 million, the government says.
Shanghai's larger, newer international airport in Pudong, on the opposite side of the city, handles most of the city's international flights as well as many domestic routes.
The Expo, which begins May 1 and will run for six months, may attract as many as 800,000 visitors a day at peak times, stretching even the new transport systems to their limits. Almost all are expected to be Chinese, many of them traveling from the densely populated Yangtze River Delta region that surrounds Shanghai.
The smaller, older terminal operated at about three times its intended capacity, but actually was managed very efficiently. A passenger often could arrive, check in and be on a plane in a half-hour or less.
The new, bigger terminal will require walks of nearly 20 minutes from security for some of its most distant gates, but will have 80 check-in counters and 47 security gates for fast service, officials say.