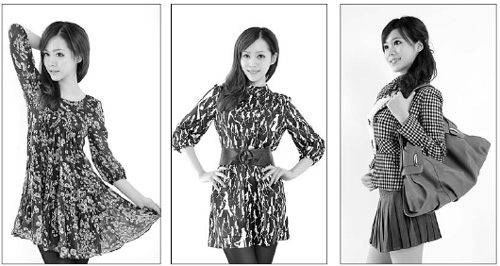 Pictures show Yang Huiwen, a 22-year-old cyber-model in Shanghai, showcasing diff erent outfits during a photoshoot.[Photos provided to China Daily] 
Amateur model rides online retail boom
SHANGHAI: Yang Huiwen is putting herself through college doing what other young women love to do on many a free afternoon out with friends: Try on new clothes.
Three days in a week, the 22-year-old English major at Shanghai International Studies University poses in front of a camera, getting 40 yuan ($5.80) for every set of fancy clothes she slips into.
And she gets paid prettily for it too - at least 10,000 yuan a month - dwarfing the salaries of many office workers in the country's financial hub.
Yang is a cyber-model, or madou in Chinese, an emerging occupation amid a boom in the country's online shopping.
"To become a cyber-model, you don't necessarily have to be tall and thin with long legs like the professionals," she said. "Having a pretty face and being able to pose vivaciously like a 'girl next door' are most important."
Cyber-models like Yang do not strut the catwalk. They pose for pictures that get posted online for stores to showcase their products.
The models are mostly college students or white-collar workers, whose employers are mainly small online clothing stores operating on a shoestring budget.
Unlike a runway model, Yang has never received professional training.
She started her part-time modeling in her freshman year and "really enjoyed it".
"I work in my spare time and I've found a balance between my studies and my job."
Yang said every model has a style they are especially good at and hers is that of an "office lady", who typically wears a pencil skirt, black stockings and frilled shirt.
Her job not only pays well, it has also gained her some fame among netizens, who frequently praise her pictures.
"Sometimes when I'm out shopping, strangers will talk to me and say they saw my pictures online. Someone even asked for my autograph," Yang said.
"It feels really good making me feel like I'm a celebrity."
Yang also takes part in various beauty contests, placing second in Miss Campus, a nationwide beauty contest for college students.
Her biggest payday came during one summer holiday when she worked five days a week, raking in 20,000 yuan a month.
"I once hit 70 sets of clothes a day," she said. "I earned 2,800 yuan for that one day alone."
Given its relatively low requirements, becoming a madou has been catching on, with many of Yang's friends and classmates going in front of the camera.
Last year alone, the sector posted a turnover of about 73 billion yuan in the fourth quarter, up nearly 20 percent from the previous year.
Still, Yang said her three years of experience make her a veteran in the budding profession and she is paid more than others.
Online clothing stores, like the numerous mom-and-pop shops on Taobao, the country's largest online retail portal, choose to employ madou because grassroots models like Yang are considered more suitable for showcasing off-the-rack products.
"I pick these schoolgirls because they are cheaper and, more importantly, because they are physically and psychologically more fitted to our customers," said Tang Miao, 32, who owns a clothing store on Taobao and regularly hires madou to showcase her clothes.
"The priority for people shopping clothes online is that the clothes fit. Looking at the professional models, they don't know if the clothes fit them, but looking at the madou they somehow do," Tang said.
While hiring a cyber-model is three times cheaper than hiring a professional model, customers can also "picture what they will look like" in the clothes by looking at a girl who is more like them than professional models, Tang said.
Privacy is another reason why online stores hire madou. Like many other online clothing store owners, Tang used to model her own clothes to cut costs but stopped because she did not want her friends and colleagues to know too much about her business.
"They will ask for discounts once they know you are selling clothes online. And that's really a dilemma because if you agree you lose money and if you don't you jeopardize the friendship," Tang said.
The countless number of online stores in the country is also fueling the growth of cyber-model agencies.
"We started the business in September last year and now have about 300 cyber-models. Seventy percent of them are college students and the rest are white-collar workers," said Song Xiaojun, who founded cyber-model agency First Model with two of his friends after discovering the business opportunity as a marketing manager at a dotcom company.
Almost all of Song's customers are clothing stores on Taobao. He introduces models to them and charges 100 yuan for each successful deal.
"Every week we sign new cyber-models and we're expanding our business into Beijing, Guangzhou and Hangzhou."
Being a startup company, First Model has only three employees, rents a 100-square-meter apartment in Shanghai's Minghang district as an office and earns 20,000 yuan a month.
"But this is just a start," Song said. "It's a promising business."