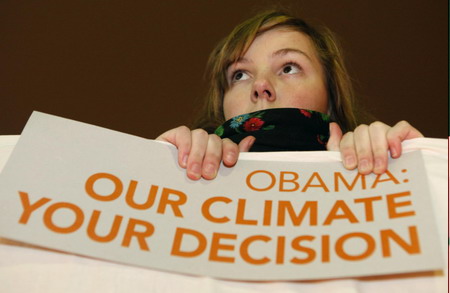 A girl holds a placard during a climate change vigil organised by Greenpeace outside the parliament building in Oslo December 9, 2009. [Agencies] 
BEIJING: The UN Copenhagen climate talks are in disarray after developing countries reacted furiously to leaked documents that show world leaders will next week be asked to sign an agreement that hands more power to rich countries and sidelines the UN's role in all future climate change negotiations.
The document is also being interpreted by developing countries as setting unequal limits on per capita carbon emissions for developed and developing countries in 2050; meaning that people in rich countries would be permitted to emit nearly twice as much under the proposals.
The draft text obtained by the Guardian newspaper in Britain is likely to have changed considerably since it was issued on Nov. 27 but it has already created a rift between those attending the Copenhagen Climate Change conference.
Three hours after the "Danish text" had been leaked to the Guardian, Lumumba Di-Aping, the Sudanese chairman of the group of 132 developing countries known as G77 plus China, spelt out exactly why the poor countries he represents were so incensed. "The text robs developing countries of their just and equitable and fair share of the atmospheric space. It tries to treat rich and poor countries as equal," Di-Aping said.
The text is a draft proposal for the final political agreement that should be signed by national leaders including Barack Obama and Gordon Brown at the end of the Copenhagen summit on Dec. 18. It was prepared in secret by a group of individuals known as "the circle of commitment" but understood to include the US and Denmark.
Five hours later, the UN's top climate diplomat responded. "This was an informal paper ahead of the conference given to a number of people for the purposes of consultations. The only formal texts in the UN process are the ones tabled by the chairs of this Copenhagen conference at the behest of the parties (involved)," Yvo de Boer said.
Special Coverage:


 Summit in Copenhagen
Related readings:


 Danish climate draft causes uproar

 US, EU expected to do more on emission cuts: China


 G77: Developed nations need do more in emission cuts


 Emission reduction is a verb, says Green Gas MD


 'Green bank' helps China reduce carbon emission
But the representatives of developing nations say they feel betrayed by the intent of the proposals in the draft. "This text destroys both the UN convention on climate change and the Kyoto protocol. This is aimed at producing a new treaty, a new legal initiative that throws away the basis of [differing] obligations between the poorest and most wealthy nations in the world," said Di-Aping.
The text may now be withdrawn because of its reception by China, India and many other developing countries. It suggests that rich countries are desperate for world leaders to have a text to work from when they arrive next week. Few figures are included in the text as these would be added later after negotiation by world leaders. However, it does seek to hold global temperature rises to 2°C, the safe limit according to scientists, and it mentions the sum of 10 billion U.S. dollars a year in aid to help poor countries cope with climate change, starting in 2012.
Last night the G77 reaction was seen by some developed world analysts as an exaggerated but fundamentally correct response to the way that the US, the UK and other rich countries have sought to negotiate. Development NGOs have been particularly scathing in their criticism. Antonio Hill, climate policy adviser for Oxfam International, said, "This is only a draft, but it highlights the risk that when the big countries come together, the small ones get hurt."
"It proposes a green fund to be run by a board, but the big risk is that it will run by the World Bank and the Global Environment Facility (a partnership of 10 agencies including the World Bank and the UN Environment Programme) and not the UN," Hill said, "That would be a step backwards, and it tries to put constraints on (emissions in) developing countries when none were negotiated in earlier UN climate talks."
Alden Meyer of the Union of Concerned Scientists described it as "a starting point document" noting that on the 1st and 2nd of December Danish negotiators consulted with representatives of the developed and developing world in Copenhagen. "I assume they made pretty extensive revisions to that based on the comments they got and based on inputs from a variety of negotiating blocs" he said. "What they (Denmark) put out early next week or whenever they decide to actually put it out to Ministers will probably be very different to what is on the Guardian website, but who knows, this is in Danish hands." With regard to the negotiating text rather than this political text, he said "My understanding is that they want to make a whole series of decisions next week in the conference of the parties based on the negotiating text as well as this political text."
Controversially the text contains passages that imply international measurement, reporting and verification of developing country actions and that developing country emissions must peak between now and 2050. Chinese negotiator Su Wei told a press conference on Tuesday evening that he hadn't seen the proposal. He welcomed the idea of a global peak in emissions, presuming that developed countries did most of the work, but said that "it is too early to talk about a peak concentration year for developing countries." He noted that many people who live in developing countries still do not have access to electricity. He also rejected the notion of international measurement, reporting and verification of Chinese emissions.
Over the coming days several new texts will emerge and out of them a possible contender to be carried by consensus of all the countries. Despite the controversy Di-Aping said that the G77 remained committed to the talks. "We will not walk out of the talks at this late hour, because we will not allow the failure of Copenhagen. But we will not sign an inequitable deal; we will not accept a deal that condemns 80 percent of the world population to further suffering and injustice."