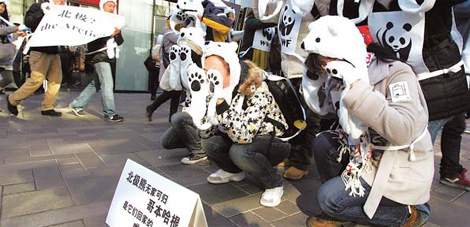 Volunteers, dressed as polar bears, promote the uptake of a low-carbon lifestyle for Beijing residents last Wednesday. The event was among the awareness-raising activities the World Wide Fund for Nature held before the start of the Copenhagen Climate Change Summit. Deng Jia
Emission reduction to combat climate change is the biggest challenge facing humanity and is one of the most talked about topics of recent years. With the high profile UN Climate Change Conference in Copenhagen looming and even higher expectations of its success, the world's attention is focused on the emission reduction issue more than ever before.
At Green Gas, we say: "emission reduction is a verb" - that is you will not reduce any emissions until you take real action. Awareness is good, but action is better.
Green Gas today produces 650 GWh per annum of electricity from renewable resources worldwide and eliminates in excess of 4 million equivalent tons of carbon each year. By utilizing and destroying methane, a potent greenhouse gas, it generates green energy to replace brown energy. We have been in the business of doing it for 30 years, long before emission reduction came into the global spotlight.
We have a unique business model that focuses on an integrated approach to methane capture and utilization, in partnership with our customers. Not only does it eliminate greenhouse gas and produce clean energy, it also helps coal mine owners to make mines safer and more productive through improving gas management in mines. Furthermore, we invest in our own solutions to make them a reality.
China is proving the most impressive growth story of modern times, supported by strong leadership, vast natural resources, abundant labor and strong domestic and international demand. A common concern is that, with rapid economic growth, comes damage to the environment.
The policy direction in China, which focuses more and more on energy conservation, emission reduction and climate change mitigation, is a clear illustration of China's desire to deal with this serious global issue.
Green Gas is very honored to be in China at this time and to be able to implement projects alongside Chinese companies and people. We believe this will provide a better future for the generations to come.
"Emission reduction" is a verb that leads to more verbs. At Green Gas we:
"Manage" methane to make mines safer and more productive
"Develop" projects that reduce greenhouse gas emissions
"Invest" in such projects
"Build" power plants that generate electricity from methane emissions
"Operate" methane fired power plants on a day-to-day basis to ensure their stable high performance, efficient reduction of emissions and provision of clean energy
Kofi Annan, the former Secretary General of the United Nations, once said: "Scientists tell us that the world of nature is so small and interdependent that a butterfly flapping its wings in the Amazon rainforest can generate a violent storm on the other side of the earth. This principle is known as the 'Butterfly Effect'. Today, we realize, perhaps more than ever, that the world of human activity also has its own 'Butterfly Effect' - for better or for worse."
Green Gas will continue its mission of solidly executing emission reduction projects. By flapping our wings we believe our "Butterfly Effect" will bring better results for the world. We believe that, with more people in China joining us, we can do more and do it better.
The author is managing director of Green Gas (Beijing) Clean Energy Technology Ltd.
(China Daily 12/05/2009 page7)