Man raises money for charity with a kind heart and a website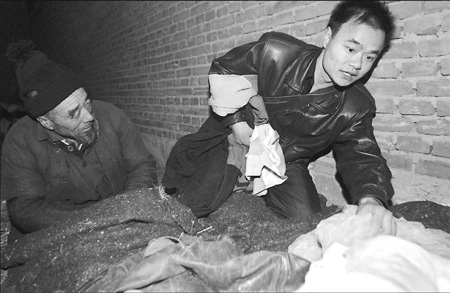 Zhang Renjie (right) brings clothes to homeless seniors on the streets in winter. [File photo]

In moments of despair and exhaustion, the last words of a dying seven-year-old girl keep Zhang Renjie going.
"Uncle Zhang, please save me!"
As the operator of a website that receives donations to help the needy, Zhang desperately tried to save seven-year-old Yang Dan, whom he could see slowly dying of congenital heart disease in front of his eyes.
Unfortunately, the day before enough money was raised to help her, she passed away.
According to her father, the girl's last words were "Uncle Zhang, please save me!"
It is for people like her, the countless helpless people, not for himself, that 26-year-old Zhang cherishes life.
An average-looking man of medium height, Zhang stands out from the crowd as the operator of charity website Owe China, (www.owecn.com).
In the past four and half years, he has continued doing one thing - raising money for people in need, those suffering from disease and children deprived of education.
Through his site some 16,800 poverty-stricken people, whose information has been published online, have received financial support. In 2007 alone, 240 million yuan ($35,200,000) was collected.
Zhang's persistence and dedication, which even saw him nominated for a national award, has made him almost "homeless".
Since 2006, he has been toiling on the road, traveling the nation, dropping in on families or schools asking for help, or paying return visits to people subsidized by kindhearted donors.
He publishes each donation with the donor's name on the website to give thanks on behalf of the recipients. Insisting on one-to-one donations, many children will not even know Zhang's name.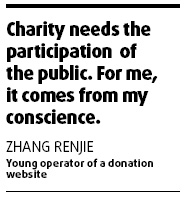 A backpack with a digital camera borrowed from a journalist friend and his ID are all Zhang carries. Even extra clothes are a nuisance.
He stays in cheap rooms, friends' homes or even in the open air. Tapping away on a keyboard in an Internet bar into the early morning, hoping to articulate as many sad realities as quickly as possible, Zhang has to squeeze in time to sleep and gets used to working around the clock for several days at a time.
"I'm a person walking on the edge of coldness and warmth," Zhang said about his experiences over the past five years. "I'm shocked by the cold, unchangeable, tearful realities. Meanwhile, people's faith in morality even in the harshest circumstances, and respect for every physically or mentally incomplete life warms my heart. "
Born as the second boy into a rural family in Lu'an, Anhui province, Zhang chose to leave school at 12 after learning his parents supported his education by selling their blood. Four abandoned baby girls were brought home when he was 11 and all the family's savings were pooled to rescue one of the dying babies.
He worked as a migrant worker in many kinds of temporary jobs until a man named Jiang Tao saw the boy reading an English textbook while collecting garbage. Jiang then sent Zhang to a martial arts school in Henan province, realizing the boy's dream of mastering kungfu to protect others.
Zhang persevered in studying English and would interpret for foreign visitors touring the school. After graduation, he was recommended as a gym coach in Beijing, and supplemented his earnings by teaching English part-time.
Related readings:


 Chinese charity seeks public help for Haiti


 Prince William spends night on London streets


 Charity show raises money for burned children


 Inspired granddaughter gives charity a hand


 Charity needs money for children
Inspired by the kind conduct of his parents and Jiang, Zhang began bringing food and quilts to beggars on the street. Nearly five years later the beggars get excited when they meet Zhang, like being reunited with an old friend.
In his spare time, Zhang began compiling a Chinese-English martial arts dictionary, which is now half complete. He also dreamed of becoming a martial arts instructor and leading his students to a gold medal.
However, his life changed in May of 2005, when he encountered 13-year-old Wang Xueping, a girl with birth deformities who was begging with her uncle for money for an operation.
Zhang was determined to share the tough task. He turned to the media for help in broadcasting Wang's information but was repeatedly refused. In desperation, he posted the story online. The article was quickly reposted to lots of websites and stirred a reaction.
Wang received her operation, and Zhang later quit his job in the gym and devoted himself to charity.
Zhang established his website in a shabby 1.8-sq-m room in the Haidian district of Beijing, dividing the space into two parts with a wooden board, resting in the upper one and working in the lower one with his 300-yuan second-hand computer.
He doesn't have time to count the number of people getting over hard times through help from his website.
Every time he returns to Beijing, he stands under the subway bridge of Wudaokou station, where Yang, the girl dying from congenital heart disease, stayed with her family at night.
Four years later, he still feels guilty, and cannot hold back his tears. Every year, he goes to visit her tomb in Linqi village, Henan province.
"When I feel exhausted mentally and physically and want to stop," Zhang says, "Yang Dan's wistful eyes and her words come to my mind, pushing me on."
In temperatures well below zero, the thin young man wears a coat that has lasted for five years with broken zipper. His jeans are, in his words, "a damaged item from donation".
With the growing influence of his website, his 250-yuan knockoff cell phone rings every few minutes, either with a request for help or a wish to donate.
Looking back at the tough road over the last few years, Zhang realized he has become a bit self-enclosed, giving every possible minute to his website.
Zhang has been busy writing around 300 stories for the site's fifth anniversary. Feeling unhappy that nearly half of those in need cannot see their own stories, Zhang hopes the words can arouse more concern for the lives of people in need.
He originally gave himself a 10-year timeframe to manage the website.
"Five years - half the time has gone," Zhang says with a sigh. He is not sure whether he can completely leave his website and those helpless people behind. Yet he cannot guarantee continuing another five years.
He did not spend the last four Spring Festivals at home, and neither will he this year, as he is planning to stay in an AIDS village in Anhui province.
Zhang says he has "taken up a kind of suicidal task", but cannot allow himself to give up.
Many people believe it is the responsibility of government, rather than individuals, to shoulder the costs of aid. Yet Zhang answers peacefully, "Charity needs the participation of the public. For me, it comes from my conscience."
"If I have just 10 yuan, I help them with what I can do with that amount. If I have nothing to give, I at least can comfort them with my words and my care."