SHAOGUAN, Guangdong: The Xinjiang Uygur workers injured in a toy factory brawl in south China's Guangdong Province condemned the riot in their hometown, where at least 140 people were killed.
"The rioters used our injuries as an excuse for their violence," said Atigul Turdi, 24, who was injured when she was running out of the scene of the fight on June 26 in Xuri toy factory in Shaoguan City, Guangdong. "I firmly opposed the violence in the name of taking revenge for us."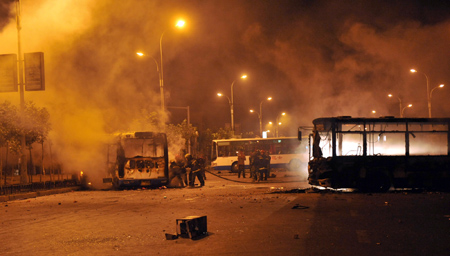 Firefighters put out a fire in Dawannanlu Street in Urumqi, capital of northwest China's Xinjiang Uygur Autonomous Region Sunday July 5, 2009. [Xinhua] 
Two Uygur workers died and 60 Xinjiang Urgur workers were injured in the brawl. Then riot organizers started posting calls on Internet forums for demonstrations in Urumqi, the Xinjiang regional capital.
"I believe the government will handle the brawl appropriately," Turdi said. "Why did the rioters destroy our beautiful and peaceful Xinjiang region in such cruel manners?"
Related readings:


 Death toll in Xinjiang riot rises to 140, still climbing


 Order partially restored in Xinjiang; tension remains


 Death toll in Xinjiang riot rises to 140


 Commentary: Riot a catastrophe for Xinjiang


 Factbook: Previous unrests in China's Xinjiang
Among the 60 injured workers from Xinjiang Uygur Autonomous Region, 29 have been discharged from hospital and a dozen others had recovered, said Fan Shiping, a doctor at Yuebei People's Hospital in Shaoguan City.
"The rest who were being treated and are in stable conditions," he said. "We are getting along with the patients very well."
Turdi said she would stay in Guangdong to work after recovery. As one of the first workers to arrive at Xuri factory from Shufu County, Xinjiang on May 1, she still missed the happy days to work with her colleagues harmoniously.
"Every one was very happy at a party after our arrival," she said.
But she was worried rioters would "do something terrible in other areas besides Urumqi."
"My family in Xinjiang are also feared," she said.
Ebeyjan Ahmad whose arms and head were hurt in the fight was waiting to be discharged from hospital.
He shared the worry with Turdi and chose to work in Shaoguan, too.
"As long as I'm safe here, I'd like to stay," he said. "I have made phone calls to my family so that they won't be worried about me."
Doctors celebrated the birthday of the 18-year-old Kurbanjan Abdulla in the hospital. He was presented with a birthday cake and received good wishes from the patients.
The government of Shaoguan and the factory are trying their best to help Uygur workers go back to work as soon as possible, officials said.
The alleged sexual assault on a female Han worker Huang Cuiling by several Uygur co-workers at 11 p.m. on June 25 triggered the fight between Uygur and Han ethnic workers in the Xuri toy factory in the early morning on June 26, said Nur Bekri, chairman of the Xinjiang regional government, at the press conference on Monday.
The deaths of two Uygur workers in the fight were used as an excuse for the riot in the regional capital Urumqi, which Bekri said was  masterminded by the forces of terrorism and separatism.
In the early hours of Sunday, the Urumqi police department got a tip-off that there were calls on Internet forums for demonstrations.
The riot began around 8 p.m., when rioters started beating pedestrians and smashing up buses. The violence soon spread to many other downtown areas.
At least 140 people had died and more than 800 were injured in the riot, the regional government said Monday.