URUMQI: Traffic control was partially lifted Monday morning in parts of Urumqi, capital of northwest China's Xinjiang Uygur Autonomous Region after a deadly riot late Sunday, but tension still exists in the city.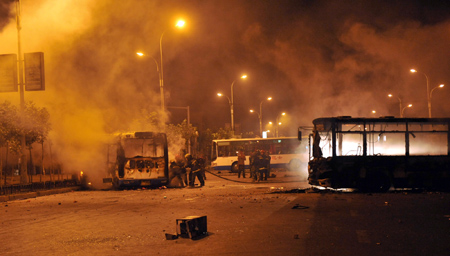 Firefighters put out a fire in Dawannanlu Street in Urumqi, capital of northwest China's Xinjiang Uygur Autonomous Region on July 5, 2009. [Xinhua]

With the exception of Yan'an Road, Tuanjie Road, a road near Xinjiang University, and Ningxiawan in the suburbs of Urumqi, blockades in downtown Urumqi have been removed.
Debris has been cleared from the roads and normal traffic has resumed. Workers are still pulling away damaged vehicles from the worst-affected roads in the city.
But most shops in areas where the violence occurred remained closed as of Monday morning.
At a market on Guangming Road, only ten stalls selling vegetables and fruit opened Monday morning, compared with dozens of stalls on normal days. The market is usually crowded.
Li Guifang, a resident near the market, said they had heard the violence last night and few residents came to the market in the morning.
Armed police are patrolling streets that are still blockaded.
In Ningxiawan, firefighters were still struggling to put out a fire at a shop Monday morning.
Residents in Urumqi said they still felt no sense of safety although the order was being restored.
A young couple, who witnessed the violent scene in Ningxiawan, said they had "little sense of safety and would leave the area quickly."
The couple, from Korla, southwest of Urumqi, said they had planned to buy a house in the capital city.
A total of 140 people were killed and hundreds of others injured in the violence in Urumqi, when rioters took to the street with knives, wooden batons, bricks and stones at around 7 pm Sunday, according to the regional government. The rioters also vandalized vehicles and buildings.