BEIJING: Sunday's deadly riot in the Xinjiang Uygur Autonomous Region bruised the beautiful city of Urumqi and shocked the world, barely 16 months after the nightmarish Lhasa violence that still clings to many Chinese minds.
"Oops! Not again!" was almost the universal response when news of the unrest came Sunday night, when blood tainted Urumqi, with at least 140 lives lost and more than 800 others injured.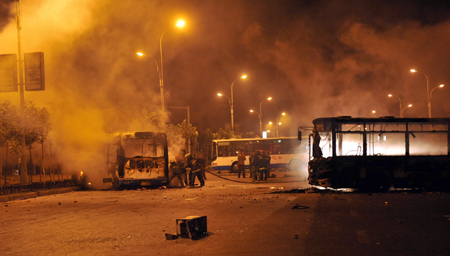 Firemen put out a fire in Dawannanlu Street in Urumqi, capital of northwest China's Xinjiang Uygur Autonomous Region Sunday July 5, 2009. [Xinhua]
When rioters assaulted innocent people with knives, wooden batons, bricks and stones, smashed vehicles and set fire to buildings and public facilities, we also saw many people of ethnic minority groups extending a helping hand to the victims.
Related readings:


 Death toll in Xinjiang riot rises to 140


 Death toll in Xinjiang riot rises to 140, still climbing


 129 killed, 816 injured in China's Xinjiang violence


 Factbook: Previous unrests in China's Xinjiang
Love and humanity glittered behind the deadly violence: out of human nature, these brave people helped those who were attacked, and stopped passersby from coming too close to the violent scenes.
By their heroic deeds, we hope, these people helped remind the rioters and whoever was behind the violence, that riots would only harm the majority of the people.
History has proven, time and again, that social stability is a blessing and riot a catastrophe. Innocent citizens always suffer the most when stability is shaken, which often leads to social unrest and stagnated economic growth.
National unity and social stability are in line with the fundamental interests of all Chinese people, including the 21 million-plus people from all ethnic groups in Xinjiang.
Given its unique location and demography, the northwestern Chinese region has been a target of separatist and terrorist actions, particularly in the past two years.
On August 4, 2008, just days before the Beijing Olympic Games opened, 17 people were killed and 15 injured in an attack on police by terrorists in Kashgar, Xinjiang. The attack was aimed to sabotage the Beijing Games.
Six days later, a string of explosions in supermarkets, hotels and government buildings rocked the region's Kuqa county, killing a security guard and a civilian and injuring two police officers.
On March 7, 2008, a number of terrorists planned to attack a passenger plane with explosives but were thwarted by police. The attempt was found to be masterminded by Eastern Turkestan separatists from abroad.
Police said that in the first half of 2008, five terrorist rings were busted in Xinjiang and 82 suspected terrorists detained.