URUMQI: At least 140 people were killed and 828 others injured in riots that erupted in the capital of the Xinjiang Uygur autonomous region on Sunday night, officials said Monday.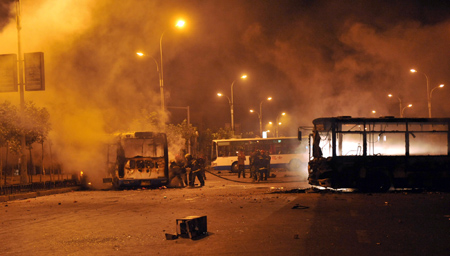 Firemen put out a fire in Dawannanlu Street in Urumqi, capital of northwest China's Xinjiang Uygur Autonomous Region on July 5, 2009. [Xinhua]


Fifty-seven bodies were retrieved from the streets of Urumqi, while the other victims were confirmed dead in hospitals, said Liu Yaohua, the regional police chief, at a press conference.
"Several hundred people" have been arrested in the attacks and police are still searching for about 90 other key suspects in the city, Liu said.
"Police have tightened security in downtown Urumqi and at key institutions such as power and natural gas facilities, as well as TV stations, to prevent large-scale riots."
Checkpoints have also been set up in Urumqi's key locations as well in the neighboring Changji and Turpan prefectures, to prevent any suspected rioters from fleeing, Liu said.
Similarly, more than 100 officials from adjacent areas have been transferred to the regional capital to help interrogate the suspects according to law, he said.
Initial investigations showed that the unrest was masterminded by the World Uyghur Congress (WUR) led by Rebiya Kadeer, regional authorities said.
"The unrest is a pre-empted, organized violent crime. It is instigated and directed from abroad, and carried out by outlaws in the country," a government statement said early Monday.
The WUR had recently started instigating unrest via the Internet among other means, calling on the outlaws "to be braver" and "to do something big", the authorities said.
Nur Bekri, chairman of the Xinjiang regional government, said in a televised speech Monday morning that the movement followed a dispute broke out between Xinjiang workers and local people in a toy factory in Guangdong province on June 26.
Related readings:


 Commentary: Riot a catastrophe for Xinjiang


 Order partially restored in Xinjiang; tension remains


 Factbook: Previous unrests in China's Xinjiang


 Death toll in Xinjiang riot rises to 140, still climbing


 Xinjiang, Pakistan sign friendly relations agreement


 Lavender flower harvest in Xinjiang


 Three policemen attacked in NW China's Xinjiang
Two Uygur workers were reportedly killed during the factory brawl, which was allegedly triggered by a sexual assault by a Uygur worker toward a Han female worker.
More than 100 members of the Han and Uygur ethnic groups were injured, local media has reported.
Nur Bekri said the brawl was used by some overseas opposition forces to instigate Sunday's unrest and undermine the ethnic unity and social stability in the autonomous region, with an aim to split the country.
"We should bear in mind that stability is to the greatest interest of all people in China, including the people in the Xinjiang Uygur autonomous region," he said.
"Last night's attack was brutal and violent," Li Zhi, the Party Secretary of Urumqi, said Monday.
Kadeer had also told her accomplices in Urumqi on July 4 that "something big" would happen there the next day and asked them to collect relevant information, Li said.
About 10 minutes of the footage of Sunday night's riot was shown at the press conferences.
Rioters vandalized and burned 203 local stores and 14 residential houses, while 260 vehicles, including two police vehicles and 190 buses, were also reportedly torched.
Hai Mina, 23, was at home and less than 200m away from the landmark International Bazaar square when violence erupted in the Xinjiang regional capital.
"I saw youths, aged 17, 18, no one older than their early 20s, setting upon men and women. They beat two men in their 50s and 30s, right in the open. Cars and vehicles were thrashed," she told China Daily on the phone of the attacks on Sunday.
Hai is of the ethnic Hui minority group and said her family is the only Hui in her neighborhood, made up predominantly of Uygur people.
She said the violence seemed to have gone down but she is still terrified of stepping out of the house, let alone return to her herbal medicine and scented flower shop in the square's popular shopping mall.
"I wasn't feeling well yesterday and things didn't seem too right as well in the evening. I went home at 6:30pm and my sister took over the shop. She came back about an hour later and then we heard about the violence at the square. The security forces arrived at the scene about 20 minutes after the violence broke out," Hai said.
"I could see everything, all the people being beaten, from my home. We have also heard of the burnings and attacks in the other parts of the city. We heard about the fighting in Guangdong province's Shaoguan city," she said. "They say something is happening or going to happen in the Ili Kazak region as well. "I don't think it's safe yet. I'm not going anywhere."
Xinhua contributed to the story