CHENGDU-- Two of the 76 passengers injured in Friday's bus blaze in southwest China died in hospital early Sunday, bringing the death toll to 27.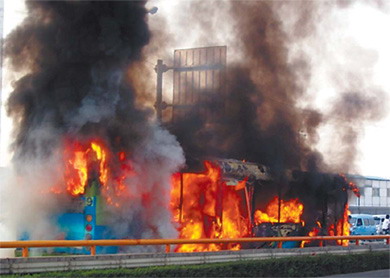 A fire rages through a bus in Chengdu, capital of Sichuan province, on Friday. [Photo by Liu Jin/China Daily]
The two, who both suffered serious burns, included Yi Zunshun, a 69-year-old man, from Tianhui Township, who died in the General Hospital of the Chengdu Military Area Command at around 9:20 am, said Yang Wei, director of the Chengdu City Health Bureau, at a news briefing Sunday.
Related readings:

 Sabotage cannot be ruled out in fatal bus blaze


 Freak fire engulfs bus in Chengdu, kills 25


 25 killed in bus blaze in Chengdu city


 24 killed in burnt bus in Chengdu
The other was a 17-year-old boy named Liu Qi, who died around 5:15 am in the Chengdu No. 2 People's Hospital, said the official.
Eighteen injured people were still in critical condition, said Yang, adding doctors were trying their best to save their lives.
Fifty-four others were in stable condition. Two have been discharged from hospital.
The accident occurred in the morning rush hour Friday, when the No. 9 bus was on its way from Tianhui Township to downtown Chengdu, capital of Sichuan and caught fire under the Chuanshan Viaduct.
Sabotage could not be ruled out as the cause of the blaze, said an official on Saturday.
Sabotage possible in deadly bus fire
Sabotage can not be ruled out as the cause of a fatal bus blaze that killed 25 people and injured 76 others Friday in southwest China's Chengdu City, said an official here on Saturday.