Twenty-five people were burned alive and 76 injured when a bus caught fire in Chengdu, capital of Sichuan province, around 8 am on Friday.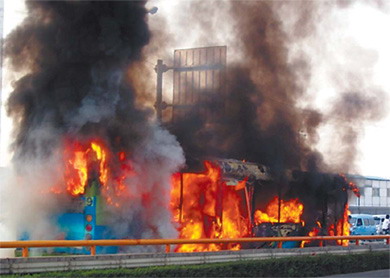 A fire rages through a bus in Chengdu, capital of Sichuan province, on Friday. [Photo by Liu Jin/China Daily] 
The bus on route No 9 was passing over Chuanshan Viaduct on its way from Tianhui township to downtown Chengdu when the fire broke out, Mao Zhixiong, Chengdu city government spokesman, said.
More than 10 passengers reportedly escaped through the front door or windows, which locals could break until the blaze threatened to engulf them. The rest were trapped inside the bus because the rear door failed to open and the mad scampering made it difficult for people to flee, witnesses said.
Witnesses informed the fire brigade as soon as they saw the blaze, and firefighters rushed toward the spot but were stuck in a traffic jam just 1 km from the spot.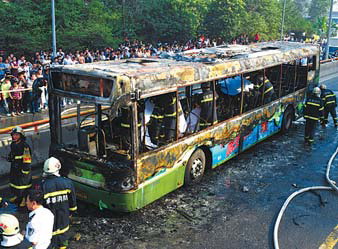 By the time they reached the scene at 8:11 am, dozens of passengers had already been burned to death in the overcrowded bus, Mao said.
According to rules, the bus should have been carrying four hammers for use in an emergency - to break windows and door panes to let people out if the automatic mechanism to open and close doors malfunctions.
But an inspection team, headed by Sichuan deputy governor Li Chengyun found the bus, which had run 270,000 km, had five steel windows but no hammers.
Overcrowded buses have become a common sight in Chengdu, a city of more than 10 million people. At least 110 people were packed into the bus on route No 9, which had a capacity for just 75 passengers.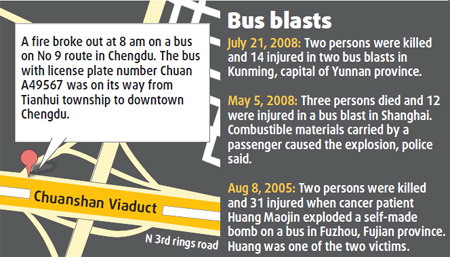 Xinhua quoted a vendor near the spot as having said the bus driver was not among the victims, and instead took part in the rescue work.
The injured were rushed to four hospitals, with 45 being admitted to the Chengdu Army General Hospital.
"All of them have suffered serious burns, so even though the weather is pretty hot, we dare not switch on the air conditioners," Zheng Lihong, the hospital's head nurse, said. "No air conditioning, no fans."
Many of the passengers who escaped the fire are unaccounted for, hospital staff said, as local officials urged residents to offer "all possible information" to help identify them.
A joint probe team, set up by the provincial and city governments, is trying to find the cause of the fire, Chengdu's deputy police chief He Jiansheng said.
Wang Jun, a restaurant owner, said he and a couple of other persons "used stones to break the bus windows". It was through these windows and the front door that the survivors escaped, said a woman surnamed Wu, whose husband was among the injured.
Chengdu civil affairs bureau has set up a 24-hour hotline to provide up-to-date information on the victims.