CHENGDU - A bus blaze has left 25 dead and 78 others injured on Friday morning in the city of Chengdu, capital of southwest China's Sichuan Province, said the provincial work safety supervision bureau.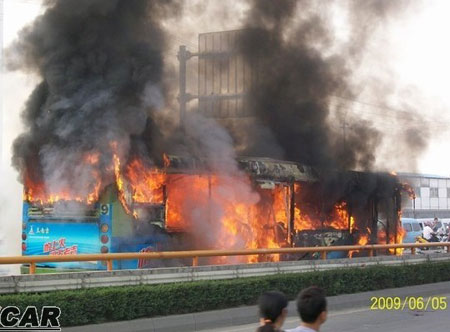 The burning bus is seen in this picture taken on June 5, 2009 in Chengdu, Southwest China's Sichuan Province. At least 25 people died in the bus blaze Friday morning. [scol.com]

Of the injured, 11 were seriously injured, and five are in critical conditions, said the bureau.  All the injured were sent to the Chengdu No.2 People's Hospital and the Chengdu Army General Hospital.
The accident took place at 8 am when the No.9, with license plate of Chuan A 49567, was on its way from Tianhui Township to downtown Chengdu, and caught fire under the Chuanshan Viaduct, said Mao Zhiqiong, spokesman with the Chengdu city government, at the scene.
Sichuan governor Jiang Jufeng came to the scene to direct rescue work.
Witness said it took only a few minutes for the bus to catch fire, and the body of the burnt bus was dragged off the scene, which was only a few meters from the bus station.
"The bus driver escaped the fire and took part in the rescue," said a vendor near the bus station.
More than 10 people escaped from the bus. "The bus was not a new one and the temperature in Chengdu is not high," said a police officer, adding that the rescue work had ended.
Traffic police told Xinhua that it was not clear whether the accident was caused by self-ignition, and they are waiting for further technical check-ups.
Four injured were sent to the No.2 hospital at about 9 am, said Yu Yuanli, director of the hospital nursing department.
"All the four are in very critical condition," said Yu, adding that about 10 stretchers were ready for the injured.
Xinhua's reporter, who saw the scene, said it was cordoned off and there was much evidence of blood.
An inspection team, made up of officials with the governments of Sichuan Province and Chengdu City, will examine fire and safety facilities at bus and coach stops in Chengdu from 3 pm Friday.