Chongqing police Sunday detained three people after excessive explosives triggered a mine accident that left 30 dead and 77 injured.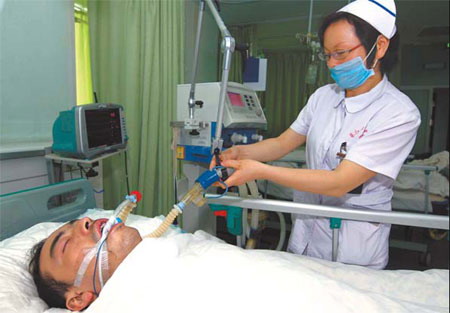 A nurse at Qijiang People's Hospital Sunday tends to Yang Shiping, one of the colliery workers seriously wounded in a gas explosion at Tonghua Coal Mine in Anwen town, Chongqing, on Saturday. The blast killed 30 people. [Photo by Liu Chan/China Daily] 
"The State Council has set up a special investigation team to look into the explosion," said Liu Guangcai, deputy director of Chongqing Supervision and Management Administration of Work Safety, yesterday.
Detained were the mine owner, the project manager and a chief engineer, local government spokesman Wen Tianping said yesterday.
He also said two managers were relieved from their posts for investigation.
The explosion occurred around 11 am on Saturday at Tonghua Coal Mine in Anwen town of Qijiang county, when 131 miners were working about 1,000 m underground.
Related readings:


 Illegal practice blamed for SW China mine explosion


 Death toll rises to 30 in Chongqing mine accident


 48 coal mine inspectors to resign


 10 killed in SW China coal mine gas blast
Zhu Chuan, vice head of Qijiang, said yesterday the identities of the 30 victims had been verified and arrangements had been made for their family members to stay in 30 separate hostels.
"We arranged 30 teams of people to comfort them and provided 30 cars for their activities," Zhu said.
He made the remarks in response to earlier reports that family members were too emotional to control themselves while they were waiting for a list of the dead.
Of the 101 rescued miners, 77 injured had been sent to three local hospitals and one first-aid center.
Three miners remained in critical condition and seven were in serious condition, he said.
Zhao Tiechui, director of the State Administration of Coal Mine Safety, said yesterday that an excessive amount of explosives triggered the accident.
"Coal mine owners put the emphasis on accelerating construction instead of work safety," he told Xinhua News Agency.
Luo Lin, director of the State Administration of Work Safety, said the mine's owner and project manager failed to coordinate their efforts while technical changes were being made to the mine.
"It was a major safety accident caused by illegal mining practices," he was quoted by Xinhua News Agency yesterday.
He also condemned the fact the mine's managers didn't evacuate workers in time.
Wen Caijin, an official with the Chongqing Energy Investment Group, was quoted by chinanews.com.cn yesterday saying the company will observe regulations to give victims' families economic compensation.
The compensation would be at least 200,000 yuan ($29,000) per victim, it reported, without revealing more information on how the compensation would be calculated.
The Tonghua Coal Mine, with a history of more than 50 years, is affiliated to the State-owned Songzao Mining Bureau of Chongqing. The colliery's designed production capacity is 300,000 tonnes per year, which has been doubled to 600,000 tonnes.