CHONGQING -- Excessive use of explosives and poor evacuation procedures were to blame for the deaths of 30 people in a southwest China colliery Saturday, a senior official in charge of the country's work safety organization said.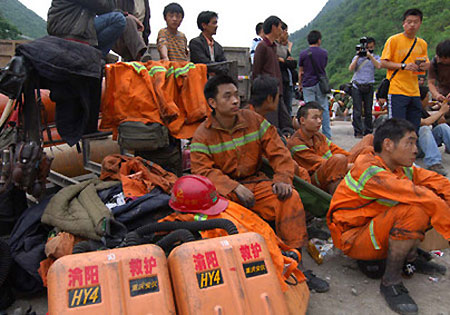 Rescuers wait at the entrance to a coal mine where a colliery gas burst at Tonghua Coal Mine in southwest China's Chongqing municipality, on May 30, 2009.[Xinhua]
Related readings:


 Colliery gas burst accident kills 25 in Chongqing


 10 missing in SW China colliery gas blast


 Colliery blast kills 18 in Hunan


 16 trapped in NE China colliery flooding


 13 miners trapped in China colliery flood
"The May 30 accident is a major safety accident caused by an illegal practices that violated mining rules," said Luo Lin, chief of the State Administration of Work Safety (SAWS) on Sunday.
Zhao Tiechui, head of the State Administration of Coal Mine Safety (SACMS), pointed out that an excessive amount of explosives directly triggered the accident.
"Coal mine owners put the emphasis on accelerating construction instead of work safety," said Zhao.
Workers should have been evacuated before detonation, he said. "The mine's managers didn't evacuate workers in time."
On Sunday, an investigation team under the State Council was set up.