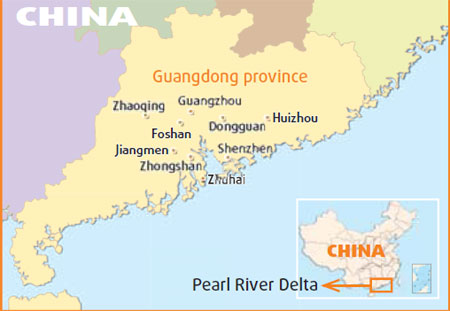 Taiwan-invested Quanyu Industry Co Ltd based in Quanzhou, Fujian province, is a negative case.
Since July this year, the company specializing in the production of sole plastic of all types has been losing money, says Chen Pingshun, general manager of the company.
"We had a slight profit before the financial crisis, but the situation has changed," Chen says. "We produced about one million soles in July, but only 60,000 pieces in September because of the reduction of orders."
He says the profit from a pair of soles is only around dozens cents of renminbi and the low profit business is entirely labor-intensive. Due to inadequate capital and advanced facilities, it's also hard for him to change the production mode.
"We are waiting for the economic situation to change," Chen says. "If the situation is still bad two years later, we probably will end our business here."
"For Taiwan enterprises, there is a very good opportunity at present," Wu Chen-Chang, former chairman of the Association of Enterprises with Taiwan of Guangzhou, says.
Chen Yunlin, president of the mainland's Association for Relations across the Taiwan Straits, and Chiang Pin-kung, chairman of the Straits Exchange Foundation, inked agreements to establish full-fledged "three direct links" - transport, postal service and trade across the Straits last month.
Wu says it's a golden opportunity and a timely help for Taiwan enterprises who have invested or will invest on the mainland. He says enterprises should not get caught up in the economic downturn, but rather look for the right opportunities to bestir their business.
"Change is one channel to survive, but catching up opportunity is another," he says.
Currently, Guangdong is home to more than 800,000 small and medium-sized enterprises (SMEs), most of which are located in PRD, according to the SMEs administration bureau of Guangdong.
The bureau's statistics also show that 99 percent of Guangdong's enterprises are SMEs that contribute two-thirds of the province's industrial output value.
Among foreign-capital invested companies in Guangdong, Hong Kong enterprises are taking up the biggest proportion.
Up to the end of last year, the province has been embracing more than 43,000 Hong Kong enterprises, occupying over 60 percent of the province's total foreign investment, says the provincial foreign trade and economic corporation department.
With more than 7,000 Macao enterprises and over 22,000 Taiwan firms also, Guangdong is one of the provinces that attracts the most foreign investment in the country, the department says.