Guangzhou -- The global economic turmoil probably will accelerate the procedure of "Double Transfer" in the Pearl River Delta (PRD) region, and push the local enterprises to embrace technology innovative for business survival.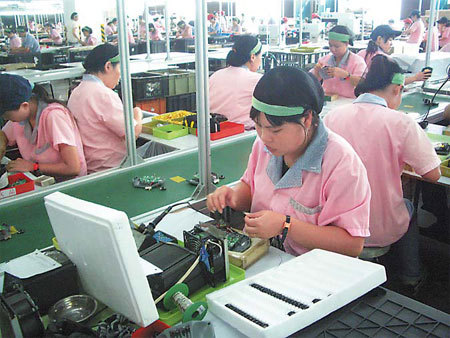 Jetta workers producing hi-tech toys.
Companies funded by Hong Kong, Taiwan, and Macao investors are expected to take the lead to realize the "Double Transfer", which refers to transferring labor-intensive industries from the delta region to less-developed regions of the Guangdong province, while laborers from less-developed areas of the region will be also encouraged to work in local manufacturing and service industries, or find employment elsewhere in the region.
In May this year, the provincial government pledged to invest more than 50 billion yuan in the next five years to implement a new labor and industry strategy, known as "Double Transfer", in order to maintain a sustainable development of the region's economic growth.
Jetta Co Ltd, a leading toy-making company based in Hong Kong and having six manufacturing factories in PRD, is an example that knows how to change.
"We are not afraid of the economic crisis at all," Li Zhiyuan, honorary chairman of the company, tells China Business Weekly.
The company was founded 31 years ago in Hong Kong. It has focused on manufacturing an extended range of toys and gifts products.
Today, Jetta has already evolved into one of the largest original equipment manufacturing (OEM) factories in the world manufacturing both toys and non-toy products.
"But we attach more importance on original design manufacturing (ODM) nowadays," Li says.
The change has attracted more clients of different categories globally, Li says.
To seek for a sustainable development, the company set up a factory in Shaoguan, a less-developed city in the north of Guangdong, as early as in 1998.
The move has boosted the economic development of the city and created a lot of work opportunities for local residents.