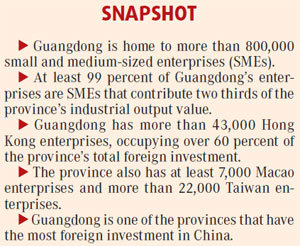 Jetta currently operates six major production bases in Guangdong province, which together cover more than 450,000 sq m of production floor space.
At the very beginning, the company only hired 25 workers. However, the company now has a workforce of over 35,000.
Many toy factories are facing a difficult time at present as the number of orders has reduced sharply. But Li says Jetta has not seen any slowdown and received the same number of orders in the first 10 months compared with same period last year.
Li says Jetta is actually benefiting from the bad business environment.
"Some orders that were given to other companies in the past have been given to us, since some of the other companies have shut down. Our focus on innovation and quality has also helped us," he says.
The devastating economic turmoil has forced many small and medium-sized manufacturing enterprises in the PRD to shift to technology-intensive and innovative production modes, Wu Jun, deputy director of the department of foreign trade and economic cooperation of Guangdong province, tells China Business Weekly.
"In the short term, a lot of enterprises have to shrink the scale of their businesses as the economy enters a downturn period," Wu says.
"But in long term, in order to survive, many enterprises will change their production mode to being more science and technology driven and some enterprises will move their locations to the less-developed areas having cheaper land and labor. For example, the east, north and west parts of Guangdong."
The move will boost the economic development in those areas, he adds.
"The economic crisis has given an opportunity to enterprises on the other hand," he says.
Guangdong has spared no effort to upgrade the producing mode of enterprises in the PRD in the past few years.
But a lot of difficulties have been encountered, as many enterprises are not interested in changing their two to three decade old labor-intensive mode of businesses. Most of the companies also prefer to be based around the PRD than move to less-developed areas, as the delta region offers convenient transportation and mature infrastructure.