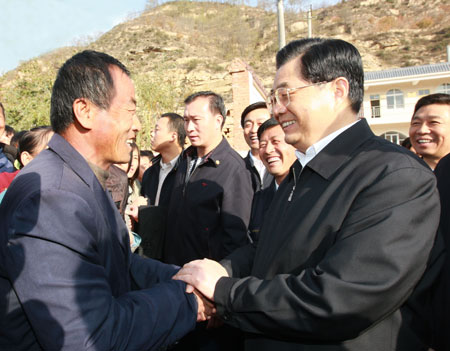 Hu Jintao, general secretary of the standing committee of the Communist Party of China Central Committee, chats with a farmer during his October 29-31 inspection trip to Ansai county, Shaanxi Province. [Xinhua]
BEIJING - Chinese President Hu Jintao recently made a site tour in Ansai County, Shaanxi Province, to publicize a campaign for the Scientific Concept of Development.
It's an ideology with the same principles of the previous Party leaders' theories known as Mao Zedong Thought, Deng Xiaoping Theory and the Important Thought of "Three Represents". The theories all say the CPC has always represented the most advanced productivity and culture in China, as well as the most fundamental interests of the majority of the Chinese people.
During his tour, which took place October 29-31, Hu explained the Scientific Concept of Development which was adopted at the Third Plenary Session of the Seventeenth CPC Central Committee.
While talking with villagers in Hougoumen, Ansai County, Hu said the new policies, based on a practice of the Scientific Concept of Development,will bring substantial benefits to farmers by allowing them to lease their rights to contract cultivated land and forests.
In the past, villagers were not allowed to lease their rights and as a result, their land was left unattended when they went to cities as transient workers.
"I believe that with the good policies of the Party and the hard efforts by the villagers, you will lead a better life in the future," said Hu, who is also the general secretary of the CPC and chairman of the Central Military Commission.
This is his second visit to Hougoumen Village.  On the eve of the traditional Chinese Lunar New Year in 2006, Hu spent the festival night with villagers, having meals and joining in festive activities including a traditional dance.
Ansai, a county subordinate to Yan'an City, is Hu's site for the on-the-spot study of the ideological drive. Yan'an served as the capital for the CPC-led revolutionary base during the 1930s-40s, before the Party took over the power in 1949.
During his stay in Hougoumen this October, Hu learned about new progress made by the leadership of the village's Party branch. The villagers have had their income remarkably increased and their living standards much improved, Hu was told.