BEIJING -- Chinese Premier Wen Jiabao on Saturday outlined a series of proposals for local governments to support small and medium-sized enterprises (SMEs).
Touring SMEs in the southern province of Guangdong, Wen said SMEs would play a crucial role in promoting economic growth, increasing fiscal revenue, providing jobs and maintaining social stability.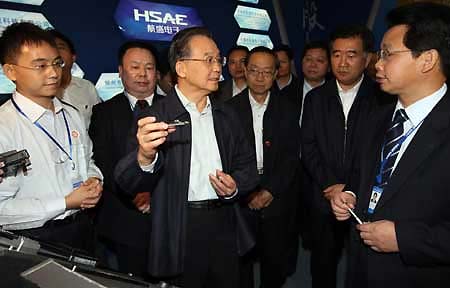 Chinese Premier Wen Jiabao (C) inspects a medium-sized enterprise in Shenzhen of south China's Guangdong Province, November 14, 2008. [Xinhua]
Wen visited SMEs in Shenzhen, Dongguan and Foshan cities, where he demanded local governments to readjust and improve policies to support the healthy and rapid growth of SMEs.
Related readings:


 Chinese premier calls for support of SMEs


 Financing conditions improve for SMEs


 China mulls more support to SMEs amid uncertainty


 China allocates 1b yuan to support SMEs financing
Measures should include easier access to credit extensions as well as preferential tax policies, and more loans to ensure SMEs grow faster in the fourth quarter.
Financing priority should be given to SMEs that met industrial and environmental protection standards and had technologies and markets, and should encourage firms to transform and restructure.
Wen said SMEs in Shenzhen performed better than those in other parts of the delta because they upgraded and innovated.
On Friday afternoon, while inspecting export-oriented, labor-intensive SMEs in Dongguan, he said the key to survival and growth was to develop new products, increase product ranges, improve quality and diversify markets.