The latest list of China's 400 richest people compiled by Forbes magazine mirrors a world in financial turmoil.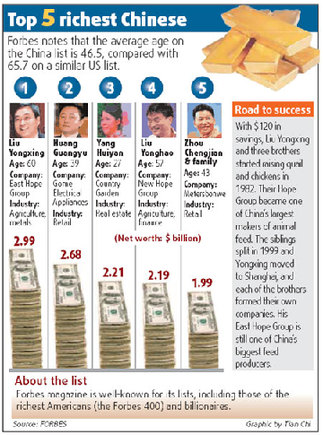 Forbes magazine is well-known for its list, including those of the richest Americans and billionaires.
The fortunes of the nation's richest have plummeted along with a 60 percent plunge in mainland stocks and a 50 percent drop in Hong Kong shares this year.
Their combined net worth dropped nearly 40 percent to $173 billion from $288 billion in 2007, and the top 40 richest lost $68 billion, or 57 percent, according to a report released by Forbes Thursday.
There are 24 billionaires in this year's list, down from a record 66 last year. The losses would have been larger if it had not been for the yuan's 10 percent appreciation against the dollar, the report said.
Related readings:


 Buffett pips Gates to top new Forbes list


 Berto retains WBC welterweight crown over Forbes


 Yao Ming leads Forbes' Chinese celebrity list for 5th year


 World's richest got even richer last year: report


 Forbes: Madonna richest woman in music
Real estate developers, who dominated the list for years, are big losers as housing prices sag.
Last year's wealthiest person, Yang Huiyan, who inherited a vast fortune from her real-estate developer father, suffered the biggest loss this year.
Her net worth plunged 86 percent to $2.21 billion and is now ranked third.
Property developer Zhang Xin, CEO of SOHO China, is ranked 19th this year, down from 7th. Her net worth has shrunk about two-thirds to $1.2 billion.
Zhang Songqiao, chairman of C C Land, saw 98 percent of his fortune evaporate and disappeared from the list this year. Ranked No 26 last year, he focuses on property development in western China.
"Property has led the downturn as the government tightened credit to counter a bubble and prices have started to fall," said Russell Flannery, Forbes senior editor and compiler of the list.
The real estate market has showed distinct signs of cooling. Price growth in major cities dropped 1.8 percentage points in September from the previous month, according to the National Development and Reform Commission (NDRC). Property sales in the first eight months dropped 12.7 percent year-on-year.
But that is not the only sector bleeding.
The US slowdown, combined with a rising yuan and a new labor law that took effect this year, have further taken the wind out of manufacturing, especially in export hubs such as Guangdong and Zhejiang provinces, Flannery said.
Zhang Yin, chairwoman of Nine Dragons Paper (Holdings) Co, is ranked No 231 and is worth only $265 million this year. She was China's richest person in 2006 with an estimated wealth of $3.4 billion. Her company is the country's largest packaging manufacturer and produces corrugated cardboard, which is used for boxes that wrap exported products.
The Hurun Rich List, compiled by Rupert Hoogewerf and released earlier this month, also showed a similar trend - the 20 richest Chinese saw their fortunes shrink about 50 percent on average this year and lost 131.5 billion yuan ($19.3 billion) in total.
Hoogewerf, who earler compiled Forbes' rankings, said over the past decade, he had never seen such a big plunge in wealth in such a short period of time.
Despite the gloom, a few tycoons managed to survive the downward trend. Liu Yongxing, chairman of East Hope agricultural feed company, returns to top of the list with $2.99 billion.
The biggest winner is Zhou Chengjian, president of Shanghai Metersbonwe Fashion & Accessories. He jumped 351 spots to the fifth, worth $1.99 billion, after listing his trendy apparel company in Hong Kong in August.
"The Forbes ranking somewhat reflects economic trends in China. For next year's ranking, I have confidence in people engaged in infrastructure-related business since the government has announced plans for massive infrastructure projects," said Duan Hongbin, an economist with Ipencil Economic Research Institute.