Warren Buffett has overtaken Bill Gates to become the richest American in the Forbes 400 list, Bloomberg said, citing a recalculated list to be published later this month.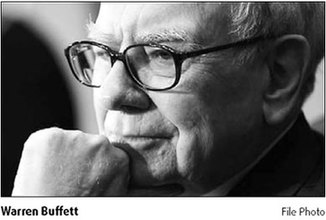 The magazine, in its Oct 27 issue, recalculates the effect of September's financial turmoil on the wealthiest Americans, those who make up its Forbes 400 list, the news agency said.
That list was published on Sept 17.
The Berkshire Hathaway Inc chairman added $8 billion to his net worth in a 33-day period, Aug 29 to Oct 1, to reach $58 billion, the agency said, citing the magazine.
Buffett overtook the Microsoft Corp co-founder, whose net worth declined $1.5 billion to $55.5 billion during the 33-day period, the agency said.
Bill Gates had been number 1 on the Forbes list for 15 consecutive years.
Las Vegas Sands Corp Chief Executive Sheldon Adelson's net worth declined $4 billion during the period, the steepest drop among Americans who lost $1 billion or more during the credit crisis, the agency said.
Oracle Corp Chief Executive Larry Ellison's wealth dropped $1.6 billion to $25.4 billion, while the net worth of Google Inc co-founders Sergey Brin and Larry Page fell by $1.5 billion each.
Computer company founder Michael Dell's fortune dwindled to $15.9 billion from $17.3 billion. Houston billionaire Dan Duncan's holdings slid to $6.3 billion from $7.6 billion, while investor Kirk Kerkorian's wealth declined by $1.2 billion to $10 billion.
Amazon.com Inc founder Jeffrey Bezos's holdings fell by $1.1 billion to $7.6 billion. He was 33rd on the list published last month.
Agencies