Guiyang- Two officials of the southwest China county that saw violent protests over the death of a teenage girl at the weekend have been recommended for dismissal for "severe malfeasance".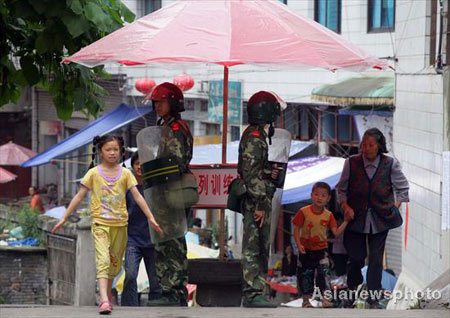 Armed police stand guard on a street in Weng'an, Guizhou Province, July 2, 2008. [Asianewsphoto] 
Click for More Photos
The Guizhou provincial committee of the Communist Party of China (CPC) proposed to Weng'an county's CPC committee and People's Congress at a meeting on Wednesday to remove county public security bureau director Shen Guirong and political commissar Luo Laiping from their posts.

The provincial committee also required local CPC discipline inspection and supervision departments to investigate allegations against other officials in dealing with the protest.

Related readings:


Third postmortem shows girl drowned 


Girl's kin wait for third postmortem


Officials admit residents harbored grievances


Social grievances behind violent protest in Guizhou
Leaders of the county's CPC committee and government had an undeniable responsibility for Saturday's violent protest ignited by a controversial police report into the girl's death, said Shi Zongyuan, Party Chief of the province.

Wang Fuyu, provincial deputy Party chief, who is heading an investigation into the violence, said the protest would not have happened if local officials had communicated appropriately with the aggrieved people after the first signs of protest emerged.

The deep-rooted reasons behind the protest were the "rude and rough-hand solutions" of local authorities to solve disputes over mines, demolition of homes for city building, relocation of residents for reservoir construction and many other issues, said Shi.

"Some officials neglected their duties, but resorted to police forces when any dispute happened, which led to strained relations between officials and the people, and police and the public," he said.

Shi also blamed local authorities for long-time disregard on rampant crimes in the county and incompetence in maintaining public security.

He urged Weng'an officials to put the people's rights and interests at the first place and pay great attention to deal with people's complaints.

"If the people's rights and interests are hurt because of improper polices or government decisions, we should admit the mistakes and correct the wrongdoings in time," he said.

He also told local government to strengthen construction of the cadre team and management of the police force and vowed to seriously punish those who cover up for gangsters.

Up to 30,000 people were involved in the protest, which was prompted by a police report on the death of the junior high school student Li Shufen last month. Police said the 17-year-old drowned, but her family and relatives contend she was raped and killed.

The protest turned violent and rioters mobbed government office buildings. More than 150 police and protesters were injured, but no deaths were reported. About 160 offices and more than 40 vehicles were torched.

Police believe 134 people committed the destruction, and later took 59 into custody. Sixteen are still in detention.

Xinhua reporters found that most local people could name several gangs during their interviews, and the residents felt insecure because of the gangsters.

Earlier in the day, police announced a four-month crackdown on gangs who were accused of inciting violence during the protest.

Luo Yi, police chief of Qiannan prefecture, which administers Weng'an County, said the crackdown would "target gangs and criminal elements in Weng'an and its neighboring areas".

Police would also investigate the illegal possession of guns and explosives, gambling, and other organized criminal activities, he said.