WENG'AN, Guizhou - Family members of Li Shufen, the 17-year-old girl whose death late last month sparked violent protests over the weekend in Weng'an county of Guizhou province, told reporters Thursday they were still waiting for the cause of her death.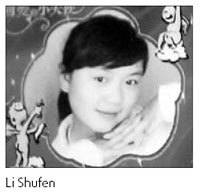 Up to 30,000 people took part in the protest over the weekend, which was prompted by a controversial police report into the death of Li last month. Authorities had concluded that Li drowned herself, but her family and relatives said that she was raped and killed.
On Wednesday, a team of forensic scientists from Guiyang, the provincial capital of Guizhou, conducted a third autopsy on Li to check whether she was raped or not before jumping into the river during an outing with two men and a girl.
She was later buried in her hometown about 20 km from Weng'an.
Authorities have said that latest autopsy results on whether Li was raped will be made known by this week.
Related readings:


 Police chief face dismissal


 Girl's kin wait for third postmortem


 Third finding on rape claim in pipeline

 30,000 took part in mass action


 No officials' kin involved in girl's death


 Guizhou stresses stability
The previous two autopsies by forensic scientists at the county- and prefecture-level showed no signs of Li being raped.
Holding his dead sister's photo before their wooden house in the mountains, Li Shuyong said he did not believe she had committed suicide by drowning herself in a river, as the local government had said.
"It's impossible - I saw injuries on her face," Li, who will graduate from senior high school this summer, told China Daily during an interview with his family yesterday afternoon.
Li Shuyong, who failed to apply for college because of what has happened, said he was expecting "a different result" from the latest tests.
"I knew the girl who was with my sister that night, but not the two men," he said.
Police have said that Li Shufen had gone for the June 21 outing at the riverside with a 21-year-old man surnamed Chen, an 18-year-old man surnamed Liu, and a 16-year-old girl surnamed Wang, after drinking alcohol.
Police said Li Shufen had told her friends she worried about her future because she was ill-treated by her parents, but they did not take her seriously. She was said to have jumped into the river while they were occupied with other activities.
The local government has not allowed interview requests with the two men and the girl.
A document submitted by the local government stated that Li was unhappy with life because her parents favored her elder brother.
However, Li Shufen's father, Li Xiuhua, did not agree.
"My son and daughter have both performed well in their schools and I treat them equally," he told reporters yesterday.
"I love them."
Li Shufen's remains were buried on Wednesday afternoon near her family home after the latest autopsy.
Unlike his son, Li had not wanted the authorities to dig up his daughter's remains for further tests to confirm her cause of death.
"I want her to rest in peace," the father of the girl said.
However, some local residents insisted that forensic scientists outside Guizhou province should be invited to conduct more tests.
The local government said that the Li family organized a group of people outside the local government office building last Saturday for the protests.
But, the dead girl's father said his son, wife and himself were appealing for justice in Guiyang, about 170 km from the scene of the protests on the day they had occurred.
"We were sent back by the provincial public security department bureau the second day, on June 29," Li said.
About a week after the protests, the situation in Weng'an, with a population of 70,000, has gradually returned to normal, apart from soldiers and police seen patrolling the streets.
Local residents and officials said the county government should have taken quicker and more efficient action to prevent the violence.
"Some county leaders were fleeing, instead of taking measures to stop the protesters," a retired official said on condition of anonymity.
Students were reportedly incited by local gangsters to join in the protests, which had badly damaged government buildings.