PARIS - French department store Galeries Lafayette on Friday made an apology to two Chinese tourists who have been treated insultingly while shopping in Lafayette.
The French high-end retail group held a meeting on Friday morning to make a formal apology to the Chinese couple who came from East China's Zhejiang Province.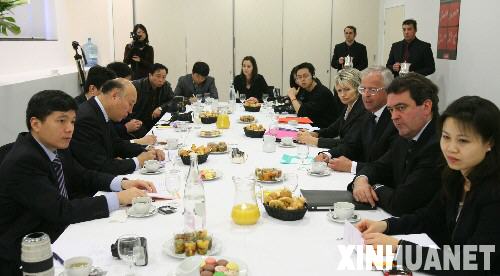 Officials of Paris-based Galeries Lafayette meet Chinese journalists at a breakfast to apologize for two Chinese tourists treated insultingly while shopping in the famed French department store in Paris on Feb 22, 2008. [Xinhua]
"We officially and sincerely apologize for the Chinese young couple, the other tour members and all the Chinese people who are hurt in this incident," said Paul Delaoutre, President of Galeries Lafayette.
The couple had been accused of using forged notes while paying at the cashier on February 11.
The couple were taken to the police office where they were questioned and searched insultingly.
After a bank expert identified that the note was not fake, the couple returned to the cashier who once again refused the note by insisting to claim it as counterfeit.
On Tuesday, Delaoutre said he sent to the Chinese couple a letter in which he made apology and offered them a new Paris tour.
The president said Chinese tourists are the biggest-spending foreign consumers in Lafayette, promising his department store would take all the necessary measures to avoid such kind of incidents in the future.