TOKYO - A Chinese experts team arrived here Sunday afternoon to jointly investigate into a case of food poisoning involving Chinese-made frozen dumplings with their Japanese counterparts.
The team is scheduled to have a meeting with the Japanese side later in the afternoon.
The two sides have agreed to refrain from making any subjective conclusion before a thorough investigation and a full exchange of views, Chinese embassy officials said.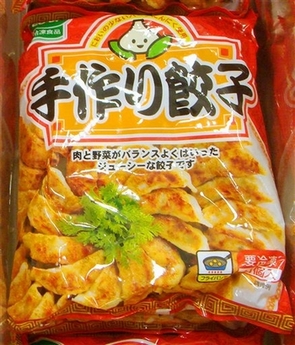 In this photo distributed by Chiba Prefectural Government Office Jan. 30, 2008, the same package of a Chinese-made dumpling sold at a supermarket in Chiba near Tokyo is shown. [Agencies] 
The Chinese team is made up of experts from the Chinese Commerce Ministry, the Chinese Certification and Accreditation Administration and the Chinese Academy of Inspection and Quarantine, according to an earlier statement released by the Chinese General Administration of Quality Supervision, Inspection and Quarantine (AQSIQ).
At least 10 people in Japan's Hyogo and Chiba prefectures fell ill since December after eating dumplings produced by the Tian Yang Food Plant in north China's Hebei Province. Japanese media said the number of victims could be much higher.
The Japanese authorities found a pesticide substance called methamidophos in the vomit of the poisoned people and the food packages left at their houses.
But tests showed the rest of the dumplings of the same batches sold in Japan, totaling more than 2,000 packs, were safe, so were all the other products made by the Chinese company.
In tests conducted back in China later last week, samples of dumplings and raw materials like flour, cabbage and packages in the factory passed local and national inspection and contained no traces of the pesticide as alleged in Japan.
Tian Yang immediately suspended production and recalled all dumplings and other products on the way to Japan following the mysterious poisoning outbreak. It also extended sympathy to those affected Japanese consumers and promised to cooperate with investigations in a sincere manner.
The company has been making frozen and dried food for more than 30 years. Its products are all for export to Japan.