China's worst harsh winter havoc in five decades will continue over the next three days, the China Meteorological Administration told a news conference Wednesday.
Provinces in Central and Northwest China on Wednesday reported more losses from heavy snow, while southern provinces reported signs of recovery from the disaster. 
The heavy snow affected 407,800 people in the central Henan Province from January 11 to 29, costing an estimated 246 million yuan (US$34.2 million), according to the provincial civil affairs department.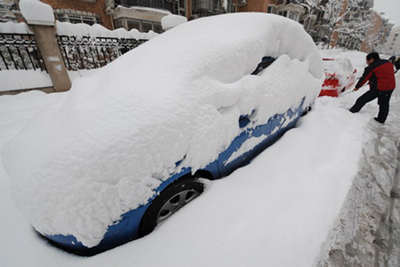 A man clears snow from a car in Nanjing, East China's Jiangsu Province, January 28, 2008, after the city was hit by the heaviest snowfall since 1961. [Xinhua] 
A total of 687 houses collapsed under the weight of snow and 204,200 hectares of crops were damaged. Authorities have so far evacuated 2,725 people from unsafe houses.
In northwestern Shaanxi Province, 756,500 people have been affected, including 1,200 who were ill or injured in snow-related accidents and 182,300 people who face drinking water shortages.
Related readings:


 China continues to suffer from snow, despite signs of recovery


 Emergency fund allocated for snow-hit areas


 China waging 'war' against havoc caused by snow


 Chinese army, police mobilized to fight snow chaos


 US$13.5mln allocated to aid snow-hit areas


 Premier Wen in snow-hit Hunan Province


 Heavy snow kills 24 in China, causes US$3b loss
More than 6,400 domestic animals and poultry died in the cold, while 340 houses collapsed. Shaanxi's losses from the snow stood at 187 million yuan, according to the provincial department of civil affairs.
In Xinjiang Uygur Autonomous Region, about 300,000 people around the Taklamakan Desert, China's biggest, have been affected and 44,600 heads of livestock have died. The desert, with an annual precipitation of up to 100 mm, is covered in four centimeters of snow.
In Kashgar, the worst hit area in Xinjiang, more than 2,100 greenhouses collapsed under the weight of snow and ice and many others were damaged, leading to price hikes in vegetables. The Xinjiang regional government has allocated 30.2 million yuan for disaster relief.
The snow, the heaviest in decades in many places, has been falling in east, central and south China for more than a fortnight. It has caused deaths, structural collapses, blackouts, highway closures and crop destruction.
More than 77.86 million people had been affected by the snow in 14 provinces, including Anhui, Jiangxi, Hubei and Hunan, by 2:00 pm on Monday, according to the Ministry of Civil Affairs.
Meanwhile, a spokesman from General Administration of Civil Aviation of China said on Tuesday that all the airports that had been forced to close due to snow had been reopened, alleviating the pressure on national transport services.
The southern part of the Beijing-Zhuhai expressway, a north-south trunk road, is expected to reopen to traffic on Wednesday after workers removed ice from road surfaces, according to sources from the Ministry of Public Security.
About 20,000 people were trapped in their vehicles lined up for kilometers along the Hunan section of the expressway by Tuesday.
An expressway section in northern Guangdong was blocked again by ice on Wednesday morning, stranding more than 1,000 vehicles and dimming hopes that the whole expressway might open to traffic by evening.
More than 115 ice-clearing machines were being used to reopen the section.