Drivers waited in lines up to a half-mile long to buy gasoline in China's mountainous southwest Tuesday amid rationing aimed at easing a fuel crunch in key export regions elsewhere.
Supplies began to run out Sunday in Yunnan Province, triggering rationing, filling station employees and news reports said.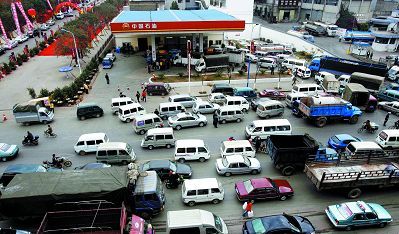 Cars wait outside a gas station in Yunan, Kunming Province December 17, 2007. [Xinhua]
The crunch follows a diesel shortage in China's southeast in October and November and the government started to order suppliers to take emergency measures.
Fuel ran short in Yunnan after a pipeline used to deliver gasoline was switched to carrying diesel in response to the shortage, reports said. The pipeline is owned by China's biggest refiner, China Petroleum & Chemical Corp (Sinopec).
"Now we do not have enough fuel to sell to customers," said an employee contacted by phone at a Sinopec filling station in Kunming, the capital of Yunnan Province.
At another Sinopec station in Kunming, an employee said the line of waiting cars stretched for a half-mile.
Related readings:


 China starts first national oil reserve base


 Local fleets to grow for imported oil


 Cities told to keep food, oil reserves

 Producer prices up 4.6% on surging oil costs


 Crude oil to remain in high-price territory


 No subsidies for oil giants
Trucks and buses were unaffected because Yunnan had adequate supplies of diesel, the employees said.
Supplies were expected to be restored in two to three days, said Xi Limei, an official in charge of commodities distribution for Kunming, the capital of Yunnan Province.
There were no reports of similar shortages in other regions and no indication of an immediate economic impact.
China's two oil giants Sinopec and China National Petroleum Corp (CNPC) have imported several hundred thousand barrels of diesel to ease the shortage in the southeast. They also have promised to reconfigure refineries to produce more diesel.
The diesel shortages in South China's Guangdong Province eased at the end of November, said filling station employees.
"We have no lines and area offering unlimited supplies to customers. There are enough supplies of both gasoline and diesel," said an employee of the Liwang Gas Station in Guangzhou, the country's southern business capital. He would give only his surname, Wang.
Sinopec and CNPC have asked for government approval to increase gasoline supplies to Yunnan next month to meet rising demand, the local newspaper Kunming Daily reported.