SHANGHAI: Haibao is here. The mascot of the 2010 Shanghai World Expo can be seen in almost every corner of the city from today.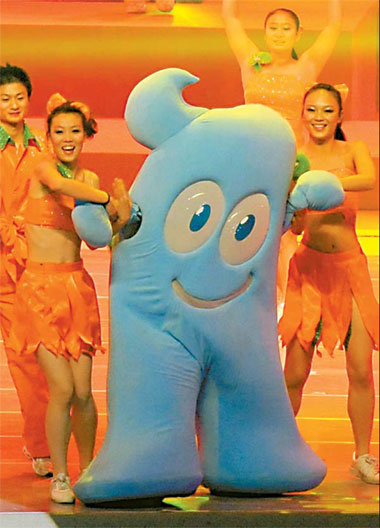 Haibao, the 2010 Shanghai World Expo mascot, is unveiled in the city last night. [China Daily/Gao Erqiang]
Unveiled last night, Haibao is the creation of two artists, one from the mainland and the other from Taiwan.
Shanghai Mayor Han Zheng rolled a big sparkling pearl at last night's gala, broadcast live across the world, setting off a domino effect that resulted in the formation of a giant Haibao on the floor. The audience responded with thunderous applause. "It's very adorable," said Gu Weiyi, a school kid. "I want a big mascot toy."
Modeled on the Chinese character ren, meaning people or a person, its name is based on si hai zhi bao, or the treasure of the four seas. Haibao can also mean the treasure of Shanghai.
"We believe the mascot will help develop the expo's theme and become the ideal ambassador for the event," said Hong Hao, director of the Bureau of Shanghai World Expo Coordination.
Picked from thousands of entries, the mascot focuses on ren to showcase the importance the Expo attaches to people.
The postal bureau will issue a set of commemorative stamps today to popularize the mascot.