TOKYO -- China and Japan vowed Thursday to continue top-level defense exchanges and enhance cooperation in security consultation, training and other military fields, a joint press communique said.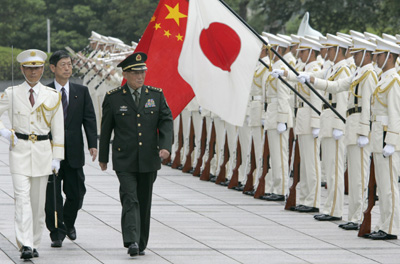 China's Defense Minister Cao Gangchuan (C), accompanied by newly appointed Japanese Defence Minister Masahiko Komura (2nd L),  reviews the honour guard at the Defence Ministry in Tokyo August 30, 2007. [Reuters]
The communique was signed while Chinese Defense Minister Cao Gangchuan is paying an official good-will visit to Japan, which started on Wednesday. It was the first visit to Japan by a Chinese defense minister since 1998.
According to the agreements reached during his visit, Cao has invited his Japanese counterpart Masahiko Komura to visit China in 2008 at both sides' convenience.
China and Japan will continue sticking to the principles as stated in the three key political documents and promote mutual confidence building and understanding, the communique said.
The two sides will deepen friendship and contribute to the construction of strategic and mutually beneficial relations and the peace, stability and development of Asia and the world, it said.
The two countries also agreed to achieve at an early date the visits between the Chief of staff of the Joint Staff Office of the Self Defense Forces' and the Chief of General Staff of the People' s Liberation Army.
To mark the 35th anniversary of the normalization of the bilateral diplomatic ties, Japan has invited Chinese navy warship to call in November or December this year, the communique said. China will also invite Japan's Maritime Self-Defense Force to call in China.
During his four-day visit, which will end on September 2, the Chinese defense minister held talks with his counterpart Masahiko Komura, met with Japanese Prime Minister Shinzo Abe and Foreign Minister Nobutaka Machimura. Cao also made a speech on China's defense policy and military exchanges between China and Japan.
The joint press communique also noted that China and Japan will continue defense and security consultations, work to set up marine contacting mechanism to maintain peace in the East China Sea, strengthen military exchanges in medical, academic, cultural and sports fields, and promote personnel training and exchange.
China has also invited Japan as an observer to a military exercise scheduled to be held in late September in the Shenyang military district in northeast China, the communique said.