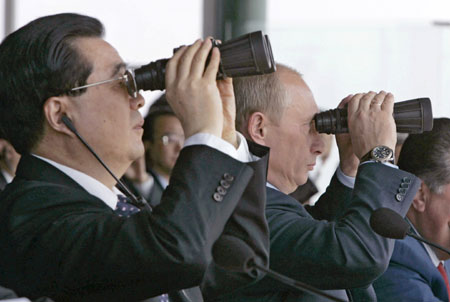 Chinese President Hu Jintao (L) and Russian President Vladimir Putin look through binoculars at the Chebarkul range before the Peace Mission 2007 counter-terrorism drill, sponsored by the Shanghai Cooperation Organization, in Chelyabinsk in Russia's Ural Mountains region, August 17, 2007. [Reuters]
Chelyabinsk, Russia -- The final stage of the "Peace Mission 2007" anti-terror drill, sponsored by the Shanghai Cooperation Organization (SCO), was conducted Friday in Chelyabinsk in Russia's Ural Mountains region.
Leaders and defense ministers from the SCO's six member countries gathered in the Chebarkul military range near Chelyabinsk in the morning to observe the drill, which was due to end later in the day.
After being briefed by the general commanders of the joint drill about the exercise, the SCO leaders took their seats at the reviewing stand.
The general conception of the exercise is: under the support of an international terrorist organization based in the north border of country N, a terrorist organization of country A launched an anti-government movement. At the headquarters of the joint drill, commanders from the six SCO members decide to annihilate the terrorists.
After three red signals were fired at 13:00 local time (0700 GMT), the live fire exercise with multi-forces under modernized conditions started. In two hours' time, the coalition troops carried out a joint operation to ferret out, block, pursue, disarm, and destroy a large terrorist organization.
The exercise, which started on August 9, was carried out first in Urumqi, capital of China's Xinjiang Uygur Autonomous Region, and is being held later in Chelyabinsk.
About 4,000 troops and 80 aircraft from China, Kazakhstan, Kyrgyzstan, Russia, Tajikistan and Uzbekistan are participating in the joint exercises.
SCO member states hope that the exercises that involve military forces from all the SCO member countries would help intensify their exchanges and cooperation in defense and security, enhance the capabilities of their armed forces in collectively countering terrorism and promote regional peace, security and stability.