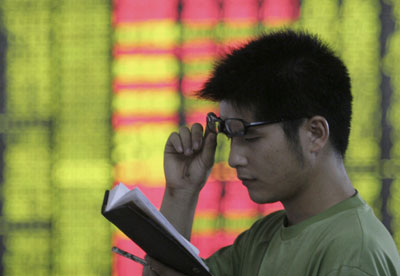 A man checks a notebook at a stock exchange in Zhengzhou, central China's Henan province August 16, 2007. [Reuters]
China's main stock index fell more than two percent on Friday as concerns over global debt market turmoil drove down major overseas markets.
The benchmark Shanghai Composite Index tumbled 2.28 percent to close at 4,656.57 points, extending Thursday's 2.14 percent loss. The Shenzhen Composite Index went down 1.57 percent to 1,297.21.
The decline came as investors around the world sold off stocks because of worries that the global credit market trouble stemming from the United States' sub-prime mortgages may spread further and slow down the world economy.
In Hong Kong, the Hang Seng Index plunged more than 6 percent at one stage before recovering some lost ground to close 1.38 percent down. In Tokyo, the key Nikkei Index lost more than 5 percent and closed at its lowest level in 12 months.
In Wall Street on Thursday, the Dow Jones industrial average plunged as many as 343 points before ending the day 15.69 points lower from the previous close.
Blue chips were among the worst performers in the Shanghai and Shenzhen stock exchanges. These stocks have led the market rally in the last few weeks, making them easy targets for profit-taking.
The Industrial and Commercial Bank of China dropped 4.58 percent to close at 6.46 yuan per share, while Bank of China fell 3.19 percent to 5.76 yuan.
In the insurance sector, Ping An Insurance of China shed 4.28 percent to 89.17 yuan, followed by a 2.93 percent fall in China Life to 47.34 yuan.
Sinopec also contributed to the decline, diping 2.55 percent to 14.52 yuan, as Angang Steel and Iron Co. fell 5.09 percent to 26.10 yuan.
Bucking the trend, Aluminium Corporation of China gained 2.66 percent to 35.49 yuan, and Shanghai Automobile edged up 0.48 percent to 23.19 yuan.
Another factor pulling down the market is a possible interest rate hike. The Consumer Price Index, a barometer of inflation, jumped a 10-year high of 5.6 percent in July, raising the odds for the fourth interest rate increase this year.
The possible monetary tightening made investors jittery on Friday as the central bank usually announces interest rate hikes during the weekend.