The police will be given more guidance on how to deal with cases of domestic violence, a rising trend in recent years.

According to the All-China Women's Federation, domestic violence complaints have risen 70 percent in the past two years.

Nine ministries, including the All-China Women's Federation and the Ministry of Public Security, will issue guidelines that provide a legal basis for police intervention, Zhang Yanhong, a director of the legal department of the federation, said.

The guidelines are expected to take effect at the end of this month, she said.

"They will strengthen an anti-domestic violence law due to go before the next National People Congress," Zhang said.

The guidelines take a practical and standard approach to dealing with family violence.

Police response must be immediate or they could face punishment, Zhang said.

China has laws and regulations concerning domestic violence, but they lack details for prevention and punishment.

"The police, up to now, do not have a legal right to intervene in family cases," Liao Saifang, a public security officer, said.

Police involvement will help stem domestic violence, and in some cases prevent deaths, Liao said.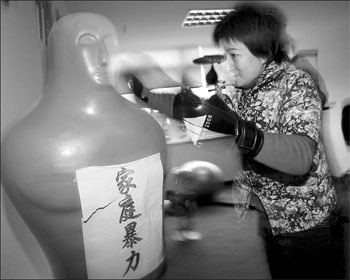 A woman throws punches at a rubber boxing dummy, with the words "family violence" marked on its chest, at a catharsis club in Chongqing. The facility serves exclusively for women battling depression and family violence. Tang Ming Related story

In Shenzhen, South China, 26 people have died resulting from domestic abuse in the first half of this year - 13 percent of deaths - occurring in all criminal cases.

In the past two years, the federation has received about 50,000 complaints of domestic violence, up 70 percent, the deputy chairman of the federation, Mo Wenxiu, was quoted as saying by the Xinhua News Agency.

Domestic violence is partly responsible for the 400,000 divorces every year in China, Mo said.

Guo Ruixiang, China Program Specialist of the United Nations Development Fund for Women, said the increase was probably due to more violence and to an increase in victims seeking help.

"The figure reminds us of how serious the situation is in the country," she said.

Guo said the guidelines were a step in the right direction, as it would enhance the public's awareness of domestic violence.

(China Daily 07/21/2007 page3)