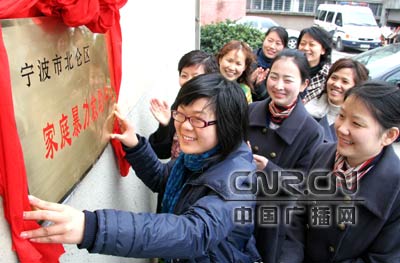 The plaque of the aid center for victims of domestic violence is hung on its wall in Ningbo in eastern China's Zhejiang Province on Tuesday, March 6, 2007. [Photo: cnr.cn]


An aid center for victims of domestic violence was set up on Tuesday afternoon in Ningbo, in east China's Zhejiang Province.
The shelter, the first of its kind in the city, is sponsored by the Beicang District Women's Federation, offering shelter and psychological consultations, as well as legal services for victims of domestic abuse, helping them face reality with a sane mind, and learn to protect their rights through legal methods.
China National Radio reports police and civil affairs departments will coordinate to help with the centre's work. Medical staff, lawyers, mediators as well as volunteers will also work for the centre.
The city has launched a series of programs to help female victims of domestic violence, setting aside 110 police to tackle cases of domestic abuse and a center for women to seek legal help.