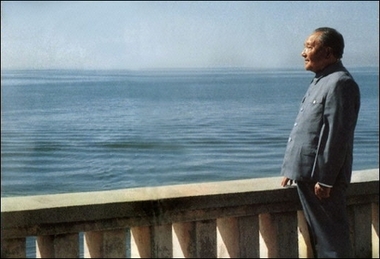 An undated photo shows Deng Xiaoping at an unidentified seaside location. Ten years after his death Xiaoping is still revered, albeit quietly, as the man who truly awakened the sleeping giant that was China. [AFP]


BEIJING -- Ten years ago when Zhang Wenrong learnt of the death of Deng Xiaoping, he broke down in tears, just like thousands of farmers who had ploughed their life savings into growing businesses in China's flourishing financial hub of Shanghai.

"Everyone in my family cried. We benefited most from Deng's reform and opening-up policy," recalled Zhang, who moved to Shanghai from a village in Wenzhou City, east China's Zhejiang Province, to try his luck after failing the college entrance exam in 1986.

"Things became uncertain and I was not sure whether I could continue my business after losing the chief architect of China's reform," he said.

Zhang, now board chairman of Shanghai Yalong Investment Co. Ltd., owns a company with thousands of employees and 4 billion yuan (US$526.3 million) in assets, and attributes his success to the central government's adherence to Deng's policies.

China has witnessed its most rapid development in the last ten years as a result of creatively carrying forward Deng's legacy, analysts say.

Leading Thinker in Market Economy

Deng Xiaoping died on Feb. 19, 1997 at the age of 92 after a long struggle with Parkinson's disease, but the impact of his policies on China has only grown with time.

When most Chinese were fearful even to mention the term "market economy", the late leader Deng vigorously preached its adoption during his historic 1992 inspection tour to economic enclaves in south China.

"Practice of a planned economy is not equivalent to socialism because there is also planning under capitalism; Practice of a market economy is not equivalent to capitalism because there are also markets under socialism." This is one of his most oft-repeated quotes.

Experts believe Deng's simple but penetrating paradox paved the way for China's switch to a market economy.

"But it has been in the last decade that China's new leaders eventually worked out how to develop a socialist market economic system," said Long Pingping, deputy director of the Literature Research Center of the Central Committee of the Communist Party of China (CPC).

Private businessmen are no longer regarded as "the enemy of the working class", but rather as a part of it - even an "advanced" part.

At its 16th National Congress held in Beijing in 2002, the CPC wrote the theory of "Three Represents" into the party constitution. The theory says that as a ruling party, the CPC will always represent the development trends of advanced productive forces, the orientations of advanced culture and the fundamental interests of the overwhelming majority of the people of China.

"The booming private economy is seen as a kind of advanced productive force that the Party will support, so the Three Represents theory gives private investors better protection and more room for development," Long said.

The CPC Central Committee, in order to improve the socialist market economic system approved in 2003, has called for vigorously promoting and guiding the private sector and granting private companies the same treatment in investment, financing, taxation, land use and foreign trade.

The private sector has been defined as "a fundamental part of the economic system", after a "struggle" from "a supplement to the state-owned sector" before growing to be "an important part of the economy", according to Party documents.

Statistics showed that by September last year, China's private sector accounted for 65 percent of national GDP (gross domestic product), and the figure would reach three quarters in just five years.

In the past 10 years, China's GDP increased from more than 7 trillion yuan (about US$875 billion) to over 20 trillion yuan (about US$2.6 trillion) and it has grown to be the fourth biggest economy in the world.