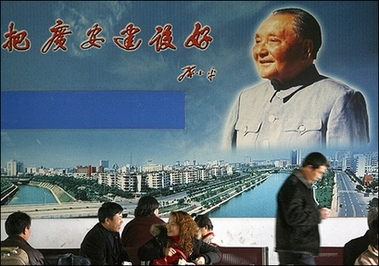 A giant billboard showing former Chinese leader Deng Xiaoping at a bus station in Guangan, in China's southwestern province of Sichuan. Ten years after his death Xiaoping is still revered, albeit quietly, as the man who truly awakened the sleeping giant that was China. [AFP]


Often referred to simply as "Comrade Xiaoping", Deng Xiaoping is revered in China as a leader who changed the course of the world by steering the country's class-orientated revolutionary struggle into tangible economic development.

Although considered as "the general architect of China's economic reform and socialist modernization", Deng Xiaoping modestly shied away the cult of personality that was all too often enjoyed by his predecessor Mao Zedong.

Deng died from a lung infection and Parkinson's disease on Feb. 19, 1997, at the age of 92. Even ten years after his death, many of his countrymen still adore him as a saint.

"I miss Grandpa Deng a lot," said Feng Daishu while fertilizing lettuce in his kale yard in the outskirts of Chengdu, in Deng's home province of Sichuan.

Without Deng's "opening-up" policy, the 64-year-old vegetable farmer said that he could have ended up becoming homeless, begging in the street.

"When he passed away, I almost cried my heart out," Feng said. "I felt I had lost a family member."

Indeed, before economic reforms were carried out in 1978, Feng was as poor as a church mouse. Feng remembered how he barely had some pennies to rub together. "I had to borrow money in order to buy a new bucket," he said. "It cost only two yuan (US$0.25)!"

Deng's reforms replaced Chairman Mao's "collectivization" with the privatization of farmland, giving the land confiscated during the "Great Leap Forward" in the 1950s back to the farmers. As long as they regularly delivered a proportion of staple crops to the government, the farmers were free to grow whatever crops they wanted.

"Now my family of three can make a comfortable living on our kale yard. We earned more than 20,000 yuan (US$2,500) last year," Feng said, laughing from cheek to cheek.

Feng holds Deng in high esteem, lamenting the 10th anniversary of his death he remarked. "Grandpa Deng made our rice bowl full, and pockets deep as well. He bailed us farmers out from poverty."

"It's really sad he's gone," he said. "We are enjoying the rice he helped us grow. He's the savior of the farmers."

Without a doubt, Deng was a pragmatic leader with a vision of a modern nation.

Cai Jinwei, a well-established cinema-photographer, noted that Mao saved China once by founding the People's Republic of China in1949 and overthrowing imperialism, feudalism, and bureaucratic-capitalism.

A veteran communist at the age of 79, Cai commented that during Mao's era, however, people were living a simple life, in part because Mao's rigid political ideology dragged the country into numerous political movements. "At the time, you might have money, but you couldn't get what you needed or wanted."

"Back then," he recalled, having a small plate of peanut on your dinner table was a wild wish. You had to wait till the Spring Festival," he said. "Then you could get a quarter of a kilo with a food coupon from the government."



| | | |
| --- | --- | --- |
| 1 | 2 | |