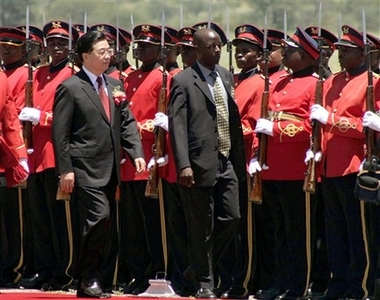 Chinese president Hu Jintao, inspects a guard of honour on his arrival in Windhoek, Namibia, Monday, Feb. 5, 2007. Namibia is the fifth leg on Hu's eight-nation tour to the African continent. [AP]


Chinese President Hu Jintao proposed Monday that China and Namibia strengthen cooperation in politics, economy and international affairs and increase people-to-people exchanges in an effort to uplift bilateral ties.

Hu, who flew in from Zambia earlier in the day for a state visit, made a four-point proposal on promoting bilateral ties during talks with his Namibian counterpart, Hifikepunye Pohamba.

The four points are as follows:

-- Enhance political exchanges and boost political mutual trust. The leaders of the two countries keep frequent exchanges of visits to communicate and exchange ideas on bilateral ties and major issues of common concern.

-- Expand cooperation in economy and trade with an aim to achieve mutual benefit and a win-win outcome. China will encourage and support competent enterprises to invest in Namibia and explore ways of cooperation with their Namibian counterparts in infrastructure, agriculture and other sectors. China will also try to adjust its foreign trade structure so as to gradually achieve a balance in bilateral trade with Namibia.

-- Increase people-to-people contacts and promote bilateral cooperation in education, public health, culture and tourism. China has decided to provide assistance to Namibia in building schools and hospitals in rural areas. It will also increase government-funded scholarships for Namibian students and train more professionals for the Southern African country.

-- Continue to support each other in international affairs through close cooperation and coordination. The two sides continue to maintain close cooperation in the United Nations and other multilateral organizations in order to safeguard the common interests of the developing countries.

Namibia was the last African country that shook off the shackles of colonial rule. China and Namibia established diplomatic ties on March 22, 1990, the second day after Namibia gained its independence.

In response to Hu's proposal, Pohamba thanked China for its support during Namibia's struggle for national independence and economic and social development afterward.

For his part, Pohamba said that Hu's visit to Namibia occurred three months following the Beijing summit of the Forum on China-Africa Cooperation (FOCAC), demonstrating the importance China attaches to its ties with Namibia and its efforts to fulfill its promises made at the summit.

He agreed with Hu's suggestions and specified that Namibia hopes to strengthen cooperation with China in trade, investment, energy, mining, fishery, agriculture, infrastructure, communication and telecommunication.

Pohamba reiterated Namibia's firm adherence to the one-China policy and its support for China's efforts to achieve national reunification.

During their meeting, the two leaders also exchanged views on the situation in Africa.

Hu said that Africa, particularly southern Africa, has generally been peaceful and stable in recent years, with economy in the region growing steadily.

African countries and regional organizations have endeavored to safeguard the hard-won good situation and vigorously pushed forward regional political and economic integration for a long-term stability and sustained development, he said.

Hu voiced China's support for the efforts made by African countries to strive for Africa's rejuvenation.

China is ready to enhance cooperation with African countries within the framework of FOCAC for the further growth of the traditional friendship and the mutually beneficial cooperation between China and Africa, he said.

After the talks, Hu and Pohamba witnessed the signing of five documents on bilateral cooperation in economy and technology, human resources training, education and tourism.

Namibia is the fifth leg of Hu's eight-nation tour of Africa that has already taken him to Cameroon, Liberia, Sudan and Zambia. He will leave Windhoek for South Africa on Tuesday, from where he will travel on to Mozambique and Seychelles.