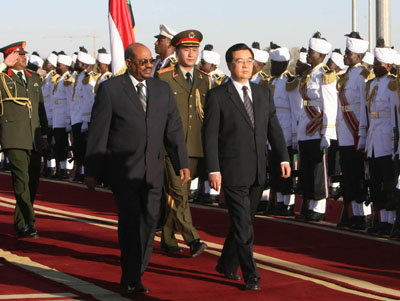 Chinese President Hu Jintao, right, reviews the honor guard in company with with his Sudanese counterpart Omar Hassan Ahmed Al-Bashir during a welcome ceremony in Khartoum, capital of Sudan, Fridayday, February 2, 2007. Sudan is the third station in an eight-nation tour of the continent. [Xinhua]


KHARTOUM -- Visiting Chinese President Hu Jintao on Friday held talks in Khartoum with his Sudanese counterpart Omar Hassan Ahmed al-Bashir and they pledged to raise Sino-Sudanese bilateral relationship to a new high.

During the talks, the two leaders had frank, in-depth and fruitful discussions on bilateral ties and major regional and international issues and reached consensus.

The two leaders praised the smooth development of Sino-Sudanese relations. Hu said that Sudan was one of the first group of African and Arab countries to have established diplomatic ties with China, and 43 years ago, then Chinese Premier Zhou Enlai visited Sudan, thus ushering in a new chapter in bilateral ties.

Hu said the peoples of the two countries have trusted each other and forged a sincere and friendly relationship over the past decades, and bilateral ties have stood the test of the changing international situation.

Thanks to the joint efforts, bilateral cooperation in various areas has been progressing in recent years, enriching bilateral ties and bringing about tangible benefit to the people of the two countries, he added.

Al-Bashir said that Sudanese-Chinese ties, based on equality and mutual respect, have set a model for state-to-state cooperation, and both countries have benefited from their increasingly close economic and trade ties.

Sudan is grateful for China's long-standing support for economic and social development in Sudan, he said, adding that the two countries have maintained close coordination and consultation on regional and international issues.

He reiterated that Sudan has adhered to the one-China policy and opposed any attempt to separate Taiwan from China.

On Friday afternoon, President Hu will meet other Sudanese officials.

Trade between China and Sudan has rapidly increased in recent years.

In the first 11 months of 2006, bilateral trade amounted to 2.9 billion U.S. dollars.

Cooperation between the two countries has expanded in areas of construction, agriculture, medical and health work and education.

President Hu flew into Khartoum from the Liberian capital of Monrovia after a one-day visit.

President Hu is on the third leg of an eight-nation tour to Africa that has taken him to Cameroon and Liberia and will also take him to Zambia, Namibia, South Africa, Mozambique and Seychelles.

Hu's African trip comes only three months after the Beijing Summit of the Forum on China-Africa Cooperation, at which Chinese and African leaders agreed to establish and develop a new type of strategic partnership, featuring political equality and mutual trust, economic win-win cooperation and cultural exchange.

Earlier, the Chinese president described his African trip as "a journey of friendship and cooperation."

He said that his current visit to the eight African countries aims to consolidate the traditional friendship between China and Africa, implement the agreements reached at the Beijing Summit of the Forum on China-Africa Cooperation last November, increase substantial cooperation and promote common development.